Ken Clarke: EU obsession 'stops Tories winning'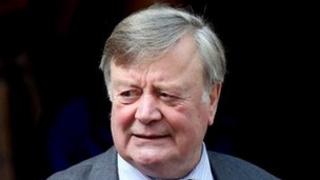 The Conservatives have not won a general election in "20 odd years" because of their "peculiar" obsession with Europe, Ken Clarke has said.
The veteran Europhile rejected all talk of electoral pacts with UKIP at the next election.
And he said the only way to make the Tories the "natural party of government" again was to focus on the economy and attacking Labour.
He was speaking at a fringe meeting at the Tory conference in Manchester.
Mr Clarke, the most pro-EU voice on the Conservative front bench, made the case for Britain's continued membership, saying the country would be left isolated and diminished on the world stage if it left.
'Neurotic'
The minister without portfolio stopped short of criticising David Cameron over his decision to pledge an in/out referendum in 2017, but said he was amazed that the debate about Europe was still raging in the Conservative Party after so many years.
"Unfortunately we haven't won an election for 20 odd years. And we used to be the natural governing party of this country when I joined it.
"What happened in 1992? Why have we had trouble ever since then? We had the Maastricht rebels. And we have had this neurotic European debate and we make the Conservative Party look peculiar.
"The public, never mind Conservative voters, don't like this frenzied, frenetic debate about Europe. They want to hear what we are doing for the country."
'Big globalist'
He said he did not believe the Tories had to start sounding like UKIP, who he dismissed as "isolationists", in order to win the next election, saying the only way to win was to "get on with the serious business of governing the country".
One of the Maastricht rebels, veteran Eurosceptic, Bill Cash, had been due to share the platform with Mr Clarke, but could not make it to the event organised by pro-EU pressure group British Influence.
It was left to David Campbell-Bannerman, the former UKIP MEP who recently defected to the Conservatives, to put the Eurosceptic case, arguing that Britain was missing out on global trade by being tied to a failing EU.
"I believe in being a big globalist, not a little European," he told the meeting.
He said Britain should concentrate on forging stronger links with Commonwealth countries and could learn from countries like Norway or Switzerland, who he said flourished outside the EU.
"There is also a democratic argument about who runs our country, " he added.