Mail on Sunday apology for reporter attending Miliband family memorial event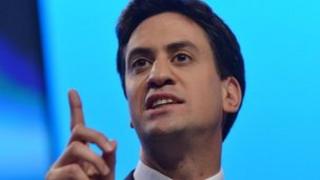 The Mail on Sunday has "unreservedly" apologised "for a reporter intruding into a private memorial service" for Labour leader Ed Miliband's uncle.
Editor Geordie Greig's apology came after Mr Miliband wrote to the paper's owner asking him to "reflect on the culture of your newspapers".
Mr Miliband said relatives at the memorial event had been asked for views on "the Daily Mail's description of my father as someone who 'hated Britain'".
Two journalists have been suspended.
In his statement Mr Greig said the reporter had been sent without his knowledge and an investigation was being held into "a decision which was wrong".
He said he had expressed to Mr Miliband his "regret that such a terrible lapse of judgement" had happened, adding: "It is completely contrary to the values and editorial standards of The Mail on Sunday."
Lord Rothermere, owner of both the Daily Mail and Mail on Sunday, has apologised to the Labour leader over the reporters' actions.
'Common decency'
Mr Miliband has been involved in a row with the Daily Mail since it printed a profile of his late father, Marxist academic Ralph Miliband, last Friday, headlined "The man who hated Britain".
In his letter to Lord Rothermere, the Labour leader said the memorial event for his uncle Professor Harry Keen on Wednesday, at Guy's Hospital in London, had been attended by family, close friends and colleagues.
But, he said, a reporter from the Mail on Sunday had attended the memorial uninvited with the intention of seeking information for publication this weekend: "My wider family, who are not in public life, feel understandably appalled and shocked that this can have happened.
"Sending a reporter to my late uncle's memorial crosses a line of common decency. I believe it a symptom of the culture and practices of both the Daily Mail and the Mail on Sunday."
Mr Miliband said "decent" staff at the newspapers would be "disgusted" by what had happened, but there was no point in complaining to the "widely discredited" Press Complaints Commission.
"Instead, I am writing to you as the owners of the Daily Mail and the Mail on Sunday because I believe it is long overdue that you reflect on the culture of your newspapers.
He added: "The reaction of many people to the Daily Mail's attacks on my father this week demonstrates that the way your newspapers have behaved does not reflect the real character of our country."
'Useful idiot'
But the Daily Mail has stood by its original reporting of the views of Ralph Miliband, who served in the Royal Navy during the Second World War and who died in 1994.
In Thursday's edition, columnist Stephen Glover accused Ed Miliband of staging a "show of calculated hysteria" for political reasons.
And the newspaper's political sketch writer, Quentin Letts, told BBC One's Question Time that Mr Miliband had mentioned his father "in every speech I've heard him make".
He described Ralph Miliband as a "useful idiot" for "people that were promoting Marxism" during the Cold War.
Mr Letts added that Ralph Miliband had been "furious that we won the Falklands War. He wanted us to lose the Falklands War.
"Is that the behaviour of a man who loves his country? I'm not sure it is."
However, shadow home secretary Yvette Cooper, praising Ralph Miliband's military record, told Question Time: "People who haven't served their country and fought for their country should really think before deciding that they have a monopoly on determining British values."
Meanwhile Ralph Miliband's biographer, Michael Newman, said the late academic "didn't hate Britain" but had been "very fond of Britain".
He called the Daily Mail's coverage "a deliberate attempt to equate criticism of British system and institutions... with a lack of patriotism, which it certainly wasn't. He wanted a different kind of Britain; he wasn't against Britain."
Lib Dem leader Nick Clegg told his weekly LBC radio phone-in show that "if anyone excels in... vilifying a lot about modern Britain, it's the Daily Mail - talk about kettles and pots".