Tony Blair joins Albania's campaign to join European Union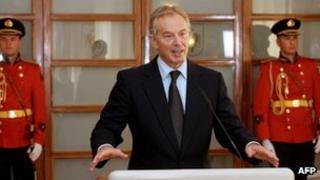 Tony Blair is to help the Albanian government with its campaign for the country to join the European Union.
The former UK prime minister said he would "love" the former Communist nation, one of the poorest in Europe, to be accepted.
Albanian leader Edi Rama said Mr Blair, who is not receiving a fee, was "totally" committed to helping.
The country has been criticised by EU officials previously for not doing enough to root out corruption.
The EU added its 28th member state in July, with Croatia joining.
Mr Blair, whose role will include lobbying officials and politicians, said it was "right and proper" for Albania to do the same.
'No illusions'
Speaking in the capital, Tirana, he added: "The orientation toward Europe is immensely important, and personally I'd love to see this country join the family of European nations."
Albania first applied to do so in 2009, but the European Commission has postponed the opening of negotiations, with officials raising concerns over organised crime and a lack of progress in bringing in democratic reforms.
Mr Rama's main campaign pledge ahead of his June landslide election victory was to push for EU integration.
Speaking at the same press conference as Mr Blair, he said: "I harbour no illusions. European integration is easy to speak of but very hard to attain."
He added that the Albanian government would not be paying for a team of Mr Blair's assistants, who will be stationed in Tirana, and that funding for them would be sought from international institutions.
Mr Blair was prime minister from 1997 to 2007 and now works as a UN Middle East peace envoy.