Liam Fox MP claims 3p for 100m car trip, documents show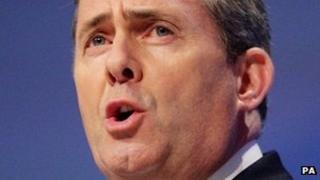 Former cabinet minister Liam Fox successfully claimed 3p of taxpayers' money for a car journey of about 100 metres, expenses documents show.
Mr Fox's office made the claim after he travelled a distance recorded as 0.06 miles in October 2012.
He had visited a concrete firm before heading within his north Somerset base to a constituency surgery in Yatton.
The ex-defence secretary made another 15 claims of under £1 for car travel approved in 2012-13, the files showed.
These included 24p for a 0.54-mile journey from a constituency surgery to a school competition in Clevedon, and 44p for a 0.98-mile journey from a local politics event at Winford Manor to Winford School.
Under the current system, MPs can claim 45p per mile.
MPs claimed a total of £23m in personal expenses in the year to April.
'According to rules'
Paperwork from the Independent Parliamentary Standards Authority (Ipsa) shows Mr Fox claimed £3,866.31 in travel expenses - including rail fares - in the last financial year.
The claim for the car journey to Yatton was paid last December, according to the notes.
Mr Fox told the Sunday People: "I don't do my expenses. My office does them. But they are all done according to the rules for travel distances."
Last year, the Conservative MP had to repay £3,000 of expenses after it was found he had allowed his friend Adam Werritty to live at his taxpayer-funded second home for a year rent-free.
He was also criticised for allowing their Atlantic Bridge think tank to be run from his parliamentary offices.
Mr Fox resigned from his cabinet position in October 2011 over his relationship with Mr Werritty.