David Cameron 'dominated conference social media traffic'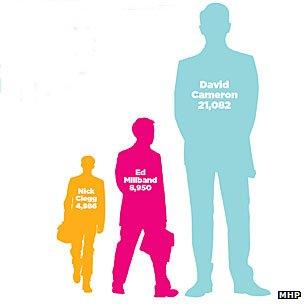 David Cameron was by far the most talked-about political leader on social media during the party conference season, new analysis suggests.
But the bad news for the Tory leader is that most people were making negative comments about him, the research shows.
Nick Clegg was the only of the three main party leaders who saw a spike in favourable tweets and other messages while the conferences took place.
The data was compiled by PR agency MHP using a digital monitoring tool.
MHP's head of digital Eamonn Carey said the parties were increasingly using this kind of software to gauge how well their message was getting through, providing an alternative snapshot of the public mood compared to traditional opinion polling.
The Conservative Party accounted for 59% of social media conversation about the three main political party conferences, according to the MHP report.
More than 21,000 social media comments referenced Mr Cameron, more than double those that mentioned Mr Miliband and four times more than Mr Clegg.
But comments about Mr Cameron during the course of the Conservative Party conference in Manchester remained negative, on average, according to the research.
Comments about Mr Miliband during Labour's trip to Brighton, a week earlier, became on average more negative as his conference went on.
Only Liberal Democrat leader Mr Clegg saw a spike in favourable tweets during his party conference in Glasgow.
Labour extended its lead in the opinion polls after Mr Miliband's conference speech, in which he pledged to freeze energy prices if his party returned to power in 2015.
But there was little sign of a post-conference bounce among the online community, it appears.
"That was the biggest surprise of the conference season for us.
"Despite all of the talk and newspaper headlines Ed Miliband's speech generated, it did not move the dial on social media," said Mr Carey.
The spike in favourable comments during Mr Clegg's big speech - in which he called for the Lib Dems to be returned to government in 2015 - may have been down to Lib Dem activists being more avid users of social media, he suggested.
The Synthesio tool used to produce the report scans thousands of sources - from the top 10 political blogs and websites, including the BBC, to Twitter messages and popular non-political forums.
It is also able to measure "sentiment" - whether comments are positive or negative.