Royal Mail flotation: Vince Cable in share value row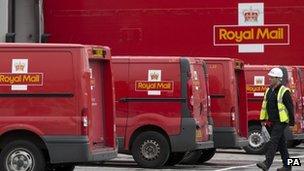 Business Secretary Vince Cable and his Labour counterpart Chuka Umunna have become embroiled in a war of words over the value of Royal Mail shares.
Mr Cable suggested Mr Umunna may have misled people about the worth of individual shares after he suggested they were being sold too cheaply.
Investors must decide for themselves what they are worth, Mr Cable said.
Mr Umunna accused Mr Cable of being "silly" and Labour was entitled to question the price of shares.
The spat took place as Royal Mail shares rose sharply on the first day of conditional trading, ahead of the newly privatised firm's official stock market debut on Tuesday.
At their peak, the shares hit 456p, up 38% on the 330p mark they were priced at.
This added £1.1bn to the value of the company,
The government, which is retaining a 38% stake in the business, has raised £1.72bn from the sale of its majority stake in the firm but critics have questioned whether it could have recouped more by putting a higher price on the shares.
Mr Cable has insisted the price was set on the basis of independent financial advice, taking into account market conditions and similar flotations of other postal businesses in recent years.
He told BBC Radio 4's Today programme that people "have to make their own judgements" about how the shares would perform in the coming months.
"I am not in the business of giving people financial advice," he said.
But he said Mr Umunna had been "going around...telling people it is under-priced and they should go out and buy it". He added: "He may find himself in the middle of a mis-selling scandal in a few months time."
Speaking earlier this week, Mr Umunna suggested taxpayers were being "short changed".
But Mr Umunna, who earlier this week suggested taxpayers were being "short changed, hit back, telling BBC Radio 5Live: "This is a silly and wild thing to say and all you are seeking to do in saying that is to stand in the way of us carrying out our constitutional duty and allowing democracy to properly function."
Labour, which opposed the privatisation despite its own efforts to sell part of the business in 2009, would judge what the government had done by assessing the price in three months time.
Asked about the price, Prime Minister David Cameron urged caution. "Lets see what happens in the days and weeks ahead. What really matters is that it's got off to a very good start."
The BBC's business editor Robert Peston said that if the shares had been priced at around this morning's market price of 450p, the Treasury would have received £2.7bn.
The government has said privatising the business is essential to help its raise the funds it needs to remain competitive and to expand but critics say it will erode investment and service standards and threaten jobs.