ID cards inevitable, says ex-minister Lord West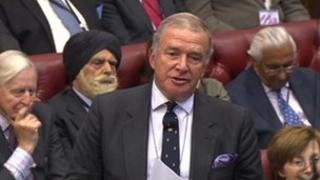 British citizens will "need" to have identity cards in future to protect themselves from threats, a former security minister has said.
Lord West said it was inevitable that the government would have to introduce a "chip and pin type card".
It need not be called an "identity card," he told peers, but without something "we will be very vulnerable".
Home Office Minister Lord Taylor said the coalition was right to scrap ID cards and they would not be returning.
Peers were debating a proposal by Tory peer Baroness Miller of Hendon to introduce self-financing photo identity cards to make it easier for private landlords and others to check the status of prospective tenants when the new immigration bill becomes law next year.
'Vulnerable'
Baroness Miller said such a task would be "virtually impossible" for private landlords.
But Lord Taylor of Holbeach rejected the idea, saying: "The government doesn't believe that voluntary identity cards would actually help in the immigration bill processes.
"These are going to be implemented by a range of administrative processes, including existing documents such as the biometric residence permit and support from Home Office services."
He said the coalition's decision to scrap the identity scheme in 2010 was part of its "commitment to restore personal freedoms and curtail unnecessary intrusions by the state" and would not be reversed.
But Lord West, who was drafted into the Labour government by then Prime Minister Gordon Brown to be a security minister, said that as government "moved forward" with more services being delivered online some kind of ID card was inevitable.
"There will be a need for a chip and pin type card for people in this country to ensure their security, with all the threats there are from cyber-attacks.
"If that is the case people will have to have those and of course they have passports, and of course they have driving licences."
The words 'identity card' would probably not be used, he added, but "we will all end up having to have something because otherwise we will be very vulnerable".
Tackling fraud
Former trade union leader Lord Brooke of Alverthorpe said the government had been "silly" to scrap ID cards and should rethink its stance.
Former Conservative MP Baron Cormack said a voluntary scheme would not cost taxpayers - an argument rejected by Lord Taylor, who said any scheme would still have to be set up and policed by the state.
He said the government was exploring other ways of helping individuals to prove their identity, such as a helpline for private landlords.
The ID-card scheme was launched in October 2009 but cancelled 16 months later and the database destroyed.
The scheme was aimed at tackling fraud, illegal immigration and identity theft - but it was criticised for being too expensive and an infringement of civil liberties.
The cards were designed to hold personal biometric data on an encrypted chip, including name, a photograph and fingerprints.
The supporting National Identity Register was designed to hold up to 50 pieces of information.