Labour backs Theresa May's Immigration Bill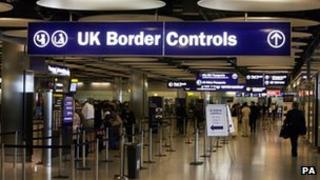 Labour has backed government plans to toughen the immigration system by cutting back on benefit payments and grounds for appeal against deportation.
Shadow home secretary Yvette Cooper told MPs her party would not oppose the Immigration Bill but "amend and reform it" as it went through Parliament.
It contained some "sensible" ideas but offered "nothing" to ensure immigrants would not be used to undercut wages.
But Home Secretary Theresa May said the bill would make the UK "fairer".
It was passed by 303 votes to 18 and will move on to further scrutiny by MPs. Among the opponents were six Labour MPs and three Liberal Democrats.
The legislation, put forward by the government earlier this month, would make landlords question tenants about their migration status and cut bank account access for those in the UK illegally.
'Labyrinthine'
Ministers also want to make it easier to deport foreign criminals and cut the number of grounds for appeal.
Also among the plans debated by MPs on Tuesday are:
making temporary residents, such as students, pay towards care provided by the NHS
powers to check driving licence applicants' immigration status
cutting the number of deportation decisions that can be appealed against from 17 to four
clamping down on people who try to gain an immigration advantage by entering into a "sham" marriage or civil partnership
requiring banks to check against a database of known immigration offenders before opening bank accounts
Mrs May said the changes would simplify a "labyrinthine" system, adding: "The bill will clamp down on the those who live in the UK illegally and take advantage of our services.
"That's not fair to the British public and it's not fair to the legitimate migrants who contribute to our society and our economy."
The home secretary added: "Fixing the immigration system is not something that can be done overnight.
"There were too many problems with the system that we inherited for that to be possible. However, this bill will help us further along that road."
There had been uncertainty over whether Labour would oppose the bill.
But, during her speech, Ms Cooper announced: "We will not oppose the bill today, as we believe that it should go through to committee stage so we can amend and reform it and use this opportunity to introduce better, fairer controls to deal with this government's failures and make immigration work for all."
She said: "The real gap in this Immigration Bill is that it says nothing about exploitation of immigration in the workplace."
Ms Cooper added: "This bill doesn't do what it claims. Some of its measures are sensible, some confused, some of serious concern. It claims to tackle illegal immigration, but does nothing of the sort."
The bill is undergoing its second reading debate, during which MPs discuss the main principles.
The government says it will help the aim of reducing net migration from non-EU countries - the difference between the number of people emigrating and arriving in the UK - to fewer than 100,000 a year.
But Ms Cooper said the bill offered "nothing" to deal with exploitation of illegal workers or problems at border controls. Labour's amendments include:
making it illegal for employers deliberately to run shifts only for foreign workers or segregate shifts by nationality
banning unsuitable accommodation being used as tied housing to offset the minimum wage
making it illegal for recruitment agencies to target and recruit only foreign workers
setting a maximum fine of £30,000 for employing illegal immigrants
There are no official estimates of the number of illegal immigrants in the UK. A 2009 study by the London School of Economics produced an estimate of 618,000, but the Migration Watch pressure group said this under-estimated the number of people who had overstayed their visas and the true figure was closer to 1.1 million.