Spy chiefs to testify in public at intelligence committee for first time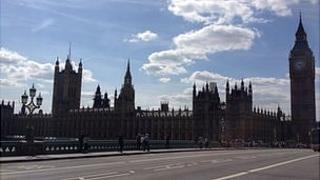 The heads of GCHQ, the Security Service and the Secret Intelligence Service are to testify in public at a parliamentary committee for the first time.
The Intelligence and Security Committee has said it will hear from GCHQ's Sir Iain Lobban, MI5's Andrew Parker and MI6's Sir John Sawers on 7 November.
MPs and peers would seek to "give an insight into the world of intelligence, and the work the Agencies do on behalf of the UK", the committee added.
The hearing will be broadcast, it said.
The evidence session is expected to last for about an hour and a half.
In a statement on its website, the committee said: "It represents a very significant step forward in terms of the openness and transparency of the agencies.
"The committee will question the agency heads on the work of the agencies, their current priorities and the threats to the UK.
"Among other things it will cover the terrorist threat, regional instability and weapons proliferation, cyber security and espionage.
"However, since this is a public session, it will not cover details of intelligence capabilities or techniques, ongoing operations or sub judice matters [i.e. those currently being considered in the courts].
"The committee questions the agencies about these details in their closed sessions."
The committee would broadcast its proceedings with a delay so that it retained the power to pause transmission of proceedings "if anything is mentioned which might endanger national security or the safety of those working for the agencies", it added.
Only parliamentary pass holders and "a small number of print journalists" would be able to take up the "limited number of seats available in the meeting room itself", the committee said.
Members of the committee include former cabinet secretary Lord Butler of Brockwell, Labour's former communities secretary Hazel Blears, and ex-Lib Dem leader Sir Menzies Campbell.
The committee is chaired by Conservative MP and former foreign secretary Sir Malcolm Rifkind.