Duncan Smith hits back in spat with Sir John Major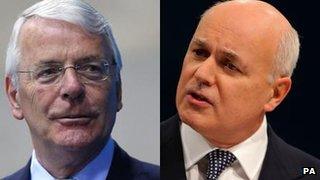 A spat between two former Conservative leaders continues after Iain Duncan Smith mocked Sir John Major's support for a "cones hotline" in the 1990s.
Relations between the two men have been cool ever since Mr Duncan Smith led opposition to Sir John over the Maastricht Treaty on EU integration.
On Tuesday, Sir John took a swipe at Mr Duncan Smith's welfare reforms, saying his "genius was unproven".
Now Mr Duncan Smith has hit back in an interview in the Evening Standard.
Asked about Sir John's comments, Mr Duncan Smith told the newspaper. "Well, as I say, I never really get too fussed about what people think about their own intellects.
"I'm always happy to be in awe of someone whose own intellect delivered us the cones hotline, I must say."
Past battles
The cones hotline - a telephone number for motorists to ring if they were irritated by unattended road works - was one of the most mocked policies of the Major government.
A source close to Mr Duncan Smith insisted to the BBC it was a throw away line and meant as a joke.
There has been little love lost between the two men since, as a backbencher in the early 1990s, Mr Duncan Smith was one of a group of rebels who fought a long parliamentary campaign against the Major government's decision to sign up to the Maastricht Treaty - regarded as a landmark moment in European integration.
The battles, which resulted in the Major government facing a confidence vote in the House of Commons, undermined Sir John's authority and led to the prime minister calling his opponents "bastards".
He repeated the phrase in a speech to an audience of political journalists on Tuesday, saying his use of the word was "unacceptable" but "his only excuse was that it was true".
'Pleasant'
In the speech, Sir John also questioned the likely outcome of Mr Duncan Smith's sweeping programme of welfare changes.
"Iain Duncan Smith is trying to reform benefits," he said.
"I truly wish him well. But it is enormously complicated and unless he is very lucky, which he may not be, or a genius, which the last time I looked was unproven, he may get some of it wrong."
Mr Duncan Smith's Universal Credit is seen as one of the most ambitious, and potentially risky, policies the coalition has embarked upon.
Chancellor George Osborne has denied reports in a recent book by the journalist Matthew D'Ancona that he had questioned whether Mr Duncan Smith had the intelligence to run a major department like work and pensions.
Referring to the matter recently at the Tory conference, Mr Duncan Smith pointed out that both Winston Churchill and Margaret Thatcher had had their intellect questioned but had proved their doubters wrong.
And Mr Duncan Smith told the Evening Standard on Friday: "I never make any claims for myself, I just say I think we should all look at each other and be a little more pleasant."