David Cameron's phone 'not monitored' by US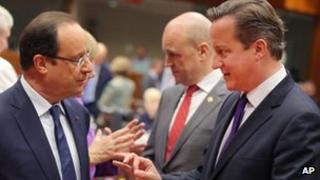 David Cameron's communications "have not, are not and will not" be monitored by the US, the White House has said.
Officials were asked about checks on the PM's phone amid claims US intelligence agencies monitored the calls of German Chancellor Angela Merkel and other European politicians.
Earlier Mr Cameron had emphasised the UK-US "unique" security alliance.
He signed up to a statement from all 28 EU leaders calling for the rebuilding of trust with the United States.
Allegations that US agencies engaged in widespread tapping of phone calls by prominent European politicians dominated the two-day European Council summit in Brussels.
But asked by the BBC specifically about Mr Cameron's communications, White House National Security Council spokeswoman Caitlin Hayden said: "I can confirm that his communications have not, are not and will not be monitored by the US."
Earlier White House spokesman Jay Carney said Mr Obama had assured Mrs Merkel that her phone was not being listened to now and would not be in the future.
However, his statement left open the question of whether calls had been listened to in the past.
Germany has said it is unacceptable that an ally eavesdropped on conversations made by its chancellor and has made clear that co-operation between the two countries in this area must change in the future.
'No breach'
French president Francois Hollande has said trust needed to be "restored and reinforced" following the revelations by whistle-blower Edward Snowden about the activities of the National Security Agency (NSA).
Both leaders want talks with US officials later this year to agree an "understanding on mutual relations".
Speaking at a press conference at the end of the summit, Mr Cameron said the EU wanted a "good partnership" with the US in all matters, including intelligence.
"I think what Angela and Francois want to do is entirely sensible and other European countries are free to join in with that," he said. "I was very struck by my colleagues how they don't want some breach between the EU and the US."
Defending the work of the UK security services, he said every country had to be satisfied that their operations were subject to proper oversight and the UK had "strengthened" its controls.
"I am satisfied our intelligence agencies are properly governed. The work they do is very important. Every year they helped obstruct, put off, major terrorist attacks, in our country and other European countries too."
He added: "Britain has a unique partnership with the USA (on security). For us we are in the right situation, but I understand what others want to do and support that, as I think does President Obama."
'Unprompted'
The joint EU statement was agreed at a dinner meeting on Thursday, at which Mr Cameron had reportedly been "uncomfortable" and said little, according to BBC political correspondent Iain Watson.
But the prime minister - unprompted - indicated his support for the statement during a news conference.
Asked about separate claims that the UK had eavesdropped on the conversations of Italian politicians, Mr Cameron said he could not comment on specific national security matters.
But he insisted that the UK's security services operated within the legal framework and pointed out that Britain shared its intelligence extensively with EU partners.
The prime minister also insisted the Snowden revelations would make the world more dangerous as they signalled "to people who mean to do us harm how to evade and avoid intelligence and surveillance and other techniques".
A Downing Street spokesman said: "We do not comment on matters of security or intelligence."
Labour MEP Claude Moraes will fly to Washington on Sunday to lead a delegation from the European Union.
He said: "This whole delegation has taken on even more importance now to investigate this idea of mass surveillance.
"Whatever anyone thinks of it, whether they think that spying has to happen and it's obvious that even friends spy on friends, there is a real paradigm shift here."
Commons defence committee adviser Professor Michael Clarke, who is director general of the Royal United Services Institute think tank, suggested the US may have breached agreements over spying.
He said: "What these revelations seem to have gone to the heart of is that the American National Security Agency has exceeded its brief.
"Its surveillance capacities are so great that they couldn't resist the temptation of clocking people's mobiles where they could."