David Cameron: Don't blame migrants for coming to UK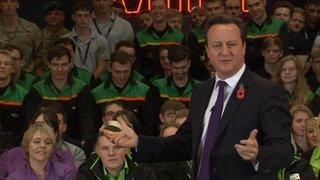 Migrants "should not be blamed" for coming to Britain to work, and tighter immigration controls alone will not create more opportunities for British workers, David Cameron has said.
The prime minister said there were UK factories where more than half the workforce were from eastern Europe.
Changes to welfare and education had to accompany tougher entry rules if UK workers were to gain from the recovery.
But the UK Independence Party said Mr Cameron's comments were "hollow".
The government has announced an overhaul of workplace apprenticeships to put more emphasis on maths and English skills to increase the level of independent assessment and to make schemes last longer.
More than 60 companies, including Tesco, Barclays and HSBC, have also agreed to support a new vocational training scheme - providing 100,000 places over the next two years - to give people work experience and boost their employability.
Although the overall unemployment rate has been steadily declining and there are a record number of people in work, levels of long-term unemployment and youth joblessness remain stubbornly high.
'Left behind'
Speaking to workers at the Mini factory near Oxford, Mr Cameron warned of a potential skills gap among British workers that could hurt their prospects and the long-term growth of the British economy.
He said he had been told by German car company Mercedes that it was struggling to fill the 5,000 places on its apprentice scheme, despite have 30,000 applications, because many of those did not have the basic qualifications needed.
"The danger for countries like Britain is 'Yes, you see the economy recover; yes, you see jobs coming; but you leave people behind who have not got have the right qualifications from school.
"I don't want that to happen in our country," he said.
No-one should be excluded from the benefits of the economic recovery, which was gathering speed, Mr Cameron said.
"People also talk about the challenge of tackling immigration. Of course there is a challenge. Here is how I see it - immigration, welfare and education are totally linked.
"You can go round factories in the country where half of the people in the factory have come from Poland, Lithuania or Latvia. You can't blame them. They have got to work hard. They see the jobs, they come over and they do them.
"But as a country, what we ought to be saying is no. Let's get our education system right so we are producing people out of our schools and colleges who are fully capable of doing those jobs which are being made available.
"Second, let's reform the welfare system so it does not pay to be out of work and it pays you to be in work. And thirdly, let's have the sensible controls on immigration."
'Open borders'
The prime minister said a cap on the number of migrants from outside the EU was part of the government's attempt to substantially reduce levels of net migration.
But UKIP said leaving the EU was the only way to fully take control of the UK's borders.
"David Cameron is once again looking to pull the wool over the eyes of the British public," its leader Nigel Farage said.
"He has finally acknowledged the damage that unrestricted eastern European immigration has had on the prospects of British workers, especially our youngsters.
"Yet this is the same prime minister who supports Turkish membership of the EU and the open borders that come with it. The rise of UKIP may have prompted David Cameron into talking about immigration
"But whilst we remain in the EU, talk is all we can do."
'Universal standard'
In July, Business Minister Matthew Hancock said companies have a "social duty" to hire local workers before recruiting abroad, echoing controversial comments made by Gordon Brown in 2007 when he was prime minister.
Labour said the government was letting down the 50% of people who did not go to university.
"Labour will create a new universal standard for apprenticeships so that they are qualifications that employers and young people can trust, and use public procurement to create thousands of new apprenticeship opportunities," said the party's higher education spokesman Liam Byrne.
The latest figures for net migration to the UK show it increased from 153,000 to 176,000 in the year to December 2012, bucking a trend in which totals have fallen steadily from above 200,000 since 2011.
While the number of immigrants arriving in the country remained virtually unaltered over the period, the increase was driven by a change in the number of people leaving Britain.