Labour MP Shaun Woodward to step down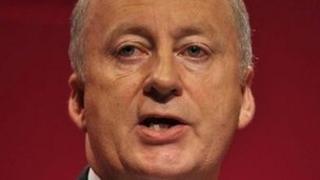 Labour MP Shaun Woodward, who became a cabinet minister after defecting from the Conservatives, is to stand down at the next general election.
Mr Woodward, who enjoyed a majority of more than 14,000 in St Helen's South and Whiston at the last election, switched to Labour in 1999.
He eventually became Northern Ireland Secretary under Gordon Brown.
Labour leader Ed Miliband said Mr Woodard had served with "great distinction" as an MP and minister.
Mr Miliband said the MP's defection had taken "personal courage and political commitment" and that Labour would "be forever grateful to you".
Writing to confirm his resignation, Mr Woodward said he would focus on human rights issues after leaving Parliament.
Mr Woodward was elected as Tory MP for Witney in Oxfordshire in 1997, but quit the seat after one parliamentary term.
While David Cameron succeeded him as Witney's Tory MP, Mr Woodward went on to win St Helen's South and Whiston, in Merseyside, one of Labour's strongholds, at the 2001 general election.
Mr Woodward had fallen out with the Conservative leadership after backing the repeal of Clause 28, which banned councils and schools in England and Wales from intentionally promoting homosexuality.
He is married to Sainsbury's heiress Camilla Sainsbury, daughter of the former Conservative MP Tim Sainsbury.
A Cambridge graduate, Mr Woodward worked as a researcher and programme editor at the BBC and as head of press for the Conservatives before entering politics.