Union 'intimidation' tactics probed in disputes inquiry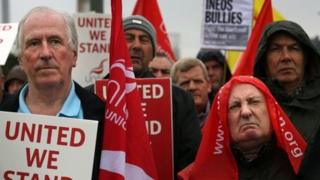 David Cameron has launched an inquiry into trade union tactics after the dispute which almost led to the closure of the Grangemouth petrochemical plant.
The review, headed by Bruce Carr QC, will examine whether the law needs to be tightened up to prevent "intimidation" and "harassment".
It follows claims the Unite union sent a "mob" to the home of a refinery manager during the recent dispute.
Unite said it would not co-operate with the inquiry as it was a "Tory stunt".
The union has defended its use of so-called leverage tactics, where managers are directly targeted as part of a protest, and argued that bad employers should have "nowhere to hide".
Cabinet Office Minister Francis Maude said such tactics had no place in industrial relations - but denied that the inquiry was politically-motivated.
'Shocking'
"It's not about politics, this is about the national interest," he told the BBC News Channel.
He said "protest is fine" but it should not be allowed to move over "into intimidation and clearly inappropriate activity," with the management being treated as "the enemy".
He said the review's first task would be to establish the facts about what happened in the Grangemouth dispute.
But it would also look at whether current trade union laws were effective "in preventing the kind of really intimidatory activity that was alleged to have taken place around Grangemouth... to see whether law is effective in preventing that and if any changes should be made."
Prime Minister David Cameron has described allegations that Unite members targeted the homes of Grangemouth refinery managers as "quite shocking".
Unite general secretary Len McCluskey has denied any intimidation and said the union acted within the law.
The inquiry will make recommendations about the roles of ministers, bosses and workers in industrial relations.
Deputy Prime Minister Nick Clegg said the review would also examine the issue "in the round", including "irresponsible business practices" such as blacklisting of union members.
'Political manoeuvre'
Lib Dem Chief Secretary to the Treasury Danny Alexander said he would back "measured, sensible, prudent reforms" to trade union law but he was "not up for a bunch of union bashing".
Scotland's First Minister Alex Salmond said he had not been consulted on the inquiry and the way it had been announced suggested it was "entirely about seeking electoral advantage".
"There are of course legitimate issues that should be addressed in relation to industrial relations and the operation of our key national infrastructure.
"However, to allow such an important matter to be presented as a political manoeuvre is foolish and irresponsible.
He said Police Scotland was "more than capable of administering the law" and there "must be no attempt to politicise their role".
The review's terms of reference include looking at the alleged use of extreme tactics in industrial disputes and the response in enforcing the law, as well as the underlying causes of industrial relations problems in certain industries.
Once appointed, it is expected the panel will take six months to gather evidence and report.
'Sop to the backbenches'
A Unite spokesman said: "This review is nothing more than a Tory election stunt which no trade unionist will collaborate with."
Paul Kenny, general secretary of the GMB union, said the announcement appeared to be "another sop to the Tory backbenches".
TUC general secretary Frances O'Grady said: "This has nothing to do with good industrial relations and is simply part of the Conservative Party's general election campaign."
Labour said it was "against any intimidatory tactics in any situation".
"These include intimidatory tactics from either unions or management in any dispute. There are laws in place which can and should be enforced," said a party spokesman.
"In any dispute, the most important thing is to get people back to work. Both sides should work together to protect jobs.
"This is a simply an attempt by David Cameron to distract from the cost-of-living crisis he has brought on, and people will see through it."
Shadow Health Secretary Andy Burnham told the BBC's Sunday Politics: "I need reassurance that this isn't a political call by Mr Cameron, designed to report near the election."
Industrial relations lawyer Mr Carr is set to head a panel of three people, with employers and unions each represented. It will report to Mr Maude and Business Secretary Vince Cable.
The Grangemouth dispute began over the treatment of Unite union official Stephen Deans after allegations he was involved in attempting to rig the selection of a Labour candidate in Falkirk.
It escalated to the threat of strike action but despite this being dropped the operator Ineos shut down the plant and issued a "survival plan", which was rejected by union members.
Ineos then announced the closure of the petrochemical plant at the site with the loss of 800 jobs.
After crisis talks the union accepted the revised terms and conditions, allowing the plant to stay open.