MP Yeo cleared by standards watchdog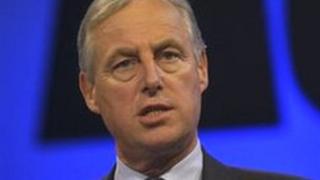 Tim Yeo has been cleared by the Parliamentary Commissioner for Standards of breaking lobbying rules.
The Tory MP was secretly filmed by Sunday Times investigators posing as representatives of a fictional energy company seeking to hire his services.
The paper said he had admitted telling a business associate what to say in evidence to the committee he chaired.
But the watchdog said the newspaper had used "subterfuge, misrepresentation and selective quotation" in its report.
The standards committee report said it "deplored" media stings but would "not hesitate to act in such cases if wrongdoing had occurred".
The MPs criticised the tactics used by the Sunday Times in approaching Mr Yeo.
"We note the severe damage which is done to public trust by journalism which rests on a basis of subterfuge, misrepresentation and selective quotation," the report said.
"Media investigations can have a role to play in ensuring high standards of public conduct, but we note that in this case Mr Yeo has broken no rules and the only misrepresentation has been that of the journalists themselves."
Bio-energy industry
Mr Yeo, who is expected to resume chairmanship of the cross-party Environment Committee on Tuesday, said: "I welcome this report. After a full investigation, the Parliamentary Standards Commissioner accepted, as I have always maintained, that I did not break the rules of the House.
"This investigation included a thorough examination of the full video-recording produced - after a six-week delay - to the commissioner by the Sunday Times.
"Based on what I actually said, rather than what I was reported by the newspaper to have said, the commissioner found and the committee confirms that I have not acted in breach of the code of conduct."
Mr Yeo stood aside as chairman, in favour of Lib Dem MP Sir Robert Smith, while the standards watchdog investigated the allegations.
The allegations date back to May, when John Smith, managing director of GB Railfreight, appeared before the committee.
Mr Yeo publicly excused himself from questioning Mr Smith because of his acknowledged conflict of interest as a non-executive director and shareholder in its parent firm Eurotunnel.
The MP's work for the company is declared in the MPs' register of financial interests and he mentioned it at the start of the committee hearing into the bio-energy industry.
Mr Yeo, who referred himself to the parliamentary standards commissioner, has said he had chatted briefly with Mr Smith five days before the hearing during a visit to one of the company's freight trains.
But he has "absolutely and unreservedly" denied the suggestion that he had told him what to say.