MPs Keith Vaz and Mark Reckless to count Romanian arrivals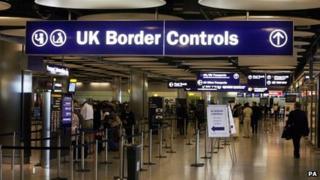 Labour MP Keith Vaz has said he will be at Luton Airport early on New Year's Day to check how many Romanians arrive in the UK to get work.
Mr Vaz said he and Conservative MP Mark Reckless will be at the airport in time for the 7.40am flight from Bucharest.
He was speaking in a debate on immigration from Romania and Bulgaria.
Ministers won't say how many Romanians and Bulgarians will come to the UK when all restrictions on what jobs they can do are lifted on 1 January.
Mr Vaz, who chairs the Commons Home Affairs Committee, asked: "Why is it that we still don't have estimates of how many people are going to come here next year?"
Higher pay
Immigration Minister Mark Harper said advice given to government was that it was not "sensible or helpful" to produce precise numerical estimates.
"If the only way to do it is to do it with our own eyes... then I am afraid we are going to have to do this," Mr Vaz responded.
In one of the final parliamentary debates of 2013, MPs criticised rules which will end EU work restrictions for people from Romania and Bulgaria at the end of this year.
Mr Vaz argued that the home secretary and immigration minister should have worked with governments in Bucharest and Sofia to address some of the likely problems before now.
The debate was prompted by a group of backbench Conservative MPs who want the restrictions to be extended.
It came after No 10 outlined tighter rules on claiming benefits from 1 January 2014.
Conservative John Baron argued that in fact higher pay rather than benefits was attracting migrants to the UK.
He warned that the government's benefit changes could "risk feeding a minority of people's views and prejudices about immigrants" and that pay was a more significant factor.
"My experience of immigrants is they come here to work [and] they work hard," he said.
Labour 'mistakes'
Fellow Conservative Peter Bone claimed the minimum wage in Bulgaria was 73p an hour and in Romania it was 79p. This compares to a UK minimum wage of £6.31.
"These are pull factors that clearly cannot be addressed" by benefit changes, he said.
European Commission statistics show that Romania and Bulgaria both have a minimum wage of less than £150 per month.
Mr Bone was among more than 70 MPs who have put their names to an amendment to the Immigration Bill that would extend the "transitional provisions" that have applied to Bulgaria and Romania since they joined the EU in 2007.
The provisions restrict some rights of Romanians and Bulgarians to work in EU member states, but do not curb travel within the EU.
Under current EU agreements, the government cannot extend the arrangements beyond their expiry at the end of the year, but the MPs are calling for them to be extended until the end of 2018.
Labour home affairs spokesman David Hanson conceded that the last Labour government made a mistake in not adopting transitory arrangements when 10 new countries, including Poland, the Czech Republic and Hungary joined the EU in 2004.
Mark Harper said Labour had not acknowledged mistakes when it came to the numbers of non-EU migrants they allowed into the UK.