UK accepted 'about 1,500' asylum seekers from Syria, says Nick Clegg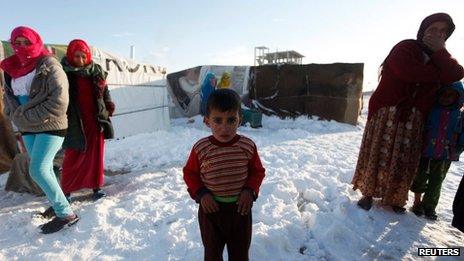 The UK has accepted "about 1,500" asylum seekers from Syria, Deputy Prime Minister Nick Clegg has told MPs.
"We have accepted hundreds upon hundreds of individual asylum seekers from Syria, under our international asylum obligations," Mr Clegg added.
But Amnesty International criticised Mr Clegg for conflating asylum seekers who have made it to the UK with people in refugee camps in the Middle East.
Mr Clegg had been responding to Labour pressure to admit 400-500 refugees.
"It's absolutely shameful that the UK, which called itself a friend of Syria, is refusing to take in any vulnerable Syrian refugees at the moment," Amnesty's Kristyan Benedict told Channel 4 News.
"Let's be clear, when we're talking about Syrian refugees we're talking about some of the most vulnerable people on the planet right now. Women who have suffered sexual violence, disabled people, people who could be persecuted in the camps.
"Amnesty would challenge back what Nick Clegg was saying today. It's not about asylum, which is a wholly different issue."
He urged the government to focus on the "resettlement of the most vulnerable Syrian refugees, right now."
Amnesty has previously criticised EU countries, including the UK, for not offering a safe haven to more of the estimated 2.3 million Syrians who have fled to neighbouring countries since March 2011.
About 838,000 are thought to have fled to Lebanon, living either in camps, unused buildings or with friends and family.
Only 10 EU member states have offered to take in a total of 12,000 refugees, Amnesty said, with Germany offering 10,000 places, France 500, and Spain 30.
The UK and Italy have offered no places to refugees in the region at all, it added.
In December, both UKIP leader Nigel Farage and Conservative minister Earl Howe also urged the government to do more.
"We have in the past been a country that looks kindly on people in distress and are the victims of violence in their native countries and that should not change," Earl Howe said.
Mr Farage said: "There is a responsibility on all of us in the free West to try and help some of those people fleeing Syria, literally in fear of their lives."
During Mr Clegg's Commons question session, Labour MP Ian Lucas urged Mr Clegg to "support the placement of a limited number of the most vulnerable refugees from Syria in the UK".
The deputy prime minister replied: "We have accepted, I think, about 1,500 asylum seekers. It is a fact that we have accepted hundreds upon hundreds of individual asylum seekers from Syria under our international asylum obligations. Of course we should do that.
"At the same time, I think that we should all, on all sides of this House, should be very proud of the fact that we, and the generosity of the British people, have led to more British assistance going, through £500m of assistance, to Jordan and other front line states, to those communities in the region who are dealing with this terrible humanitarian crisis."