Landfill mines to produce UK energy 'in 15 to 20 years', says minister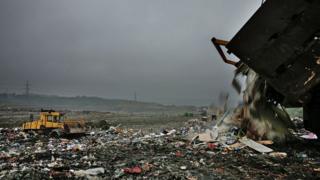 Household rubbish buried decades ago in landfill sites could be a fuel of the future, a government minister has said.
Michael Fallon said landfill mining could be commonplace in the UK within "15 to 20 years".
The technology to convert the waste into energy was being developed at Aston University, in Birmingham, and by a number of private firms, he added.
The Conservative energy and climate change minister was giving evidence to the Lords science committee.
The UK produces about 280 million tons of waste a year - nearly half of which is buried in landfill sites. Only Spain, Greece and Ireland send more to landfill per head of population.
The country is due to run out of space for its rubbish by 2018, according to the Local Government Association, unless new sites can be found - but a new EU landfill tax is likely to make that uneconomic.
The Lords committee is investigating what progress has been made in recycling more waste and using it, along with other bio-fuels, to generate electricity.
Mr Fallon last week visited the European Bioenergy Research Institute at Aston University, to learn more about its Pyroformer/Gasifier project, which generates energy from organic waste products.
Swindon first
He told the committee: "They are developing some very advanced techniques... for converting the whole of landfill into heat and power, which leads us to the prospect in 15 or 20 years time of landfill mining in this country, which would mean recovering all of these landfill sites.
"That isn't something, of course, that one can direct."
The minister said the government had put money into the Aston project, through its research councils, and there was "some European money in there as well" but it would be up to commercial companies to drive the technology forward.
Landfill mining is not a new idea but the latest developments in plasma technology, where waste is superheated to create a clean and relatively cheap gas to create electricity, are set to make it more viable.
A number of plasma gasification plants are in development around the world, although the first working example is thought to have been built in Swindon, by UK company Advanced Plasma Power.
A landfill mining project, at a rubbish dump near the city of Hasselt, in Belgium, is due to come on stream next year. It will convert methane into useable gas capable of supplying power to 60,000 homes.