Political Lives: David Abrahams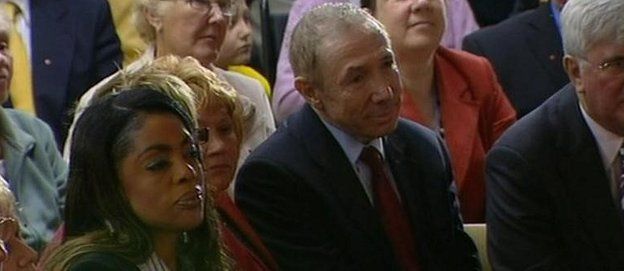 David Abrahams was the "secret" Labour donor at the centre of one the biggest political controversies of recent years. What is he doing now - and what did he learn from his time in the eye of a media storm?
It was back in November 2007 that David Abrahams' builder was pictured on the front page of a Sunday newspaper under the headline Labour's Third Largest Donor. The builder told the newspaper he "could not stand" Labour.
That story kick-started a political scandal with it emerging Abrahams had donated £650,000 to the Labour Party via his builder, his secretary and some others.
It's fair to say that Mr Abrahams did not enjoy what followed.
"It was absolutely horrendous, I felt my whole life had been taken over. I had lost control. The facts all went out the window. I felt I was in a small boat being buffeted by this media storm.
"Strangers took the right to approach me and assume things that weren't true about me. Even nowadays people are still a little bit curious about me."
Alongside the separate revelations about alleged granting of honours in return for donations (dubbed "cash for honours") and MPs' expenses (known as, er, MPs' expenses), donorgate was one of the three big political storms of the late Labour years.
As with the other two scandals, there was a police probe, but in this case there were no charges brought.
The 59-year-old businessman had for years given money to Labour, with the party agreeing to him doing so via intermediaries. He did not think he was doing anything wrong. He says the rules on donations were "vague, cloudy... not clear cut".
But for some in the media and political classes, that was not the issue, and the apparently strange tale of the mystery donor was seized on as a sign that something was rotten in the state of Labour.
Abrahams' explanation at the time was that he had used intermediaries merely to protect his privacy, but that view was questioned by some who pointed to his high profile, with ulterior motives suggested including seeking planning approval for an industrial development.
How does he explain it now? "To be frank, money is not my prime motive in life. I didn't even know how much had been given to the Labour Party because, as and when I thought fit, I instructed donations to be sent.
"At the time I gave to other charities (75 or so) privately and I don't see why giving to a political party should be any different, especially where there is no ulterior motive."
He was "astounded" when the then newish Labour PM Gordon Brown, seeking to reassert his authority after the snap election that wasn't, gave a rapid negative verdict on the donations.
"He (Brown) sort of took a stab in the dark because he wanted to get rid of it - but it just stirred things up and exacerbated a very difficult situation."
That is as critical as Abrahams gets about any of the many Labour leaders he has known.
He's soon describing Gordon Brown, as "very intellectually able, very warm, very compassionate, very caring... a very different type of person to Tony Blair but the Labour Party needed both".
Since 2007 the property developer has had plenty of time to ponder the rules on political donations and his view is that there has to be state funding: "If people want democracy then you have to pay for democracy."
He is also pushing the idea of allowing young people to join political parties for £1 a month - to help fill party coffers and tackle political disengagement by encouraging young people to "take an interest in the party of their choice, and make the parties take an interest in them".
Abrahams remains a big supporter of Labour, attending an Ed Miliband speech a few days before we meet, saying the party is closest to his belief in combining economic prosperity and social justice.
His parents were both long-serving councillors in Newcastle. His father was Lord Mayor and, before becoming a councillor, his mother was a violinist with the Liverpool Philharmonic Orchestra.
As he grew up he saw firsthand the controversial era of T Dan Smith, the Newcastle City Council leader who cleared slum housing but was jailed for accepting bribes, and who was said to have inspired the TV series Our Friends in the North.
"My father kept telling Dan Smith that he was sailing too close to the wind... that some of the roles he was playing could be out of order," he recalls.
Abrahams says that his father's hopes of getting land to extend the working men's club he owned were dashed "because he wasn't in Dan Smith's pocket, as it were... but there were a lot of aspects to Dan Smith, he had a lot of vision and was a good leader".
After a grammar school education which he enjoyed despite his high profile father - "I wasn't allowed to forget that part of my life" - Abrahams says it was clear that deprivation hit people's education.
He says that the whole issue of social policy needs to be tackled "whoever wins the next election".
The traditional industries in the North East of England disappeared during the Thatcher years and have not been replaced, he says, leading to the knock-on effect of people "feeling like they don't have hope, with low aspirations" and lacking the skills their talents deserve.
One bright light has been the success of the Nissan plant in Sunderland - although Abrahams recalls doubts among his colleagues on Tyne and Wear County Council's planning, transportation and economic development committee whether to approve the car firm's move to the region.
"A lot of discussion and debate went on about that because some of my colleagues thought Nissan was going to be one of those firms which came to the north east, got the grants and closed down after 18 months," he recalls of the firm which he says is now credited with supporting 32,000 people's jobs directly and indirectly.
Abrahams had joined the county council - covering Newcastle, Gateshead, Sunderland and North and South Tyne - after dropping out of university to set up his own business "because I knew I was entrepreneurial and I could see it would be a long, hard, slog to get to where I wanted to".
His business was teenage fashion, "London Girl", which grew to have 17 shops. Asked to describe it, he says it was similar to River Island which now occupies his former shop in Newcastle.
A later business, which as already mentioned came under the spotlight during the row over his donations, was a proposed 540 acre industrial park in Durham, which is being "master planned" at the moment, but which already has planning consent for 80 acres.
He has said that while the media was eager to suggest in 2007 he may have given Labour "secret" donations in return for smoothing the planning process, it was easily rebuffed because the planning authority for the area was actually Liberal Democrat.
Despite it being "tainted" by all the donations publicity, he says there are "a lot of good names, national and international firms" interested in moving to the park which he hopes will include a rail freight interchange, and bring thousands of jobs to the region.
Another part of Abrahams' past which came under the spotlight at the time of the donations row, was his ill-fated attempt to stand as Labour candidate against William Hague in 1992. He was forced to step down amid claims, which he has always rejected, that he had falsely claimed to have been married.
He says he had been engaged but "had to call it off". He adds: "My personal life got involved with my political life and it became entangled and at the very end I had to withdraw from it because I didn't think it was fair with all this pantomime going on behind the scenes."
So was that the end of his ambitions to be an MP?
"It's not necessarily ambitions, it's opportunities. I've been active politically all my life, still am and still taking an active interest in Labour - these things don't go away.
"But it's not the be all and end all, being in the Commons - people have still got the qualities, got the skills, still got the talent and use them in different directions."
In Abrahams' case that different direction is being vice president of the influential and respected defence think-tank the Royal United Services Institute.
"It's geopolitics, but it's all politics," he says.
"There's a brilliant working environment - there's none of the politicking that goes on behind the scenes in party politics and you can move forward in a positive direction without having to look behind your back all the time and without having press intrusion and oppositions to contend with."
His main interest is the Middle East, which has seen him make frequent trips to the region, including meetings with Hamas and with the late PLO leader Yasser Arafat.
Arafat, he says, wanted peace "but couldn't deliver - there were 13 groups around him, he was dividing and ruling".
Given the state of Arafat's health, with an oxygen mask on hand during their second meeting, Abrahams is sure that there is no substance to the claims he was poisoned.
His work with the Royal United Services Institute, which he believes has more influence on international affairs than many politicians (including UK opposition parties), also focuses on the Middle East.
So what about Tony Blair, who Abrahams has known since he became an MP in the 1980s, and who he witnessed give an emotional farewell speech at the Trimdon Labour Club in Sedgefield?
Blair, he says, has done great work on the economic side in the Middle East and must be frustrated given that "he knows what needs to be done, but can't do it".
It is Russia, rather than Tony Blair, who will be key in the region because "unfortunately Tony Blair has one hand tied behind his back because he's seen as being in the pocket of the Americans".
Abrahams is pleased to see plans to reform Labour leadership elections - he had seven votes last time due to his membership various groups affiliated to the party.
Ed Miliband, he says, "has the potential to go far - he cares for people in this country, especially those who can't speak up for themselves".
He says he is proud of being what some might call a "champagne socialist" saying the party needs support across the political spectrum - but he also backs the Labour leader's criticism of foreign firms ("monsters" as Abrahams puts it) who come to the UK but don't pay much tax.
Another of Miliband's early targets were newspapers, with the issue tackled at length in the Leveson Inquiry.
It is a subject Abrahams, not surprisingly, has strong views about.
He says that in 2007 "the type of person they were portraying was someone totally different to who I am - I went among the press at functions afterwards and they couldn't believe the type of the person they were seeing was not this reclusive weirdo they had been talking about in their articles".
He says the Leveson changes were long overdue. "I don't think we have gone far enough to curtail the press, because in a lot of cases the press in Britain is setting the political agenda.
"Until that stops the politicians will pander to the whims of the press. Politicians are here to represent the people not the press. Reporting and investigative journalism is excellent, opinions are not quite so excellent."
So, to return to where it all started, and given all he's been through, would he ever donate to Labour again?
"I'm not averse to it, but I know it's going to create a little bit of criticism. I wouldn't rule out further donations should the party consider it acceptable."