Liberal Democrats attack Labour over borrowing plans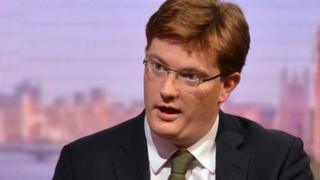 Labour would be able to borrow £166bn more than the coalition is planning under the party's new tax and spending rules, the Liberal Democrats have said.
Lib Dem Treasury Chief Secretary Danny Alexander suggested a Labour government would still be borrowing billions when the public finances would be back in balance under coalition plans.
Shadow chancellor Ed Balls has promised an economy in surplus by 2020.
Labour said the coalition had "choked off" the recovery with its policies.
The management of the economy looks set to be a major issue at the next general election, in 2015, with the coalition parties claiming Labour's plans are not credible.
But Labour says the government's spending cuts have restricted growth.
'Debt mountain'
Overall, according to the Treasury analysis put forward by Mr Alexander, Labour would borrow £166.2bn more than the coalition between 2016-17 and 2020-1.
It calculates that Labour would still be borrowing £41bn in 2019-20 and £32bn in 2020-1, by when the coalition plans to have eliminated the deficit.
Mr Alexander said: "This Treasury analysis shows that Labour have learnt nothing from the past and can't be trusted by the British people on the economy.
"Their new borrowing bombshell will pile another £166bn of extra borrowing onto the debt mountain left by their catastrophic mismanagement of the UK economy."
Mr Alexander ordered Treasury officials to carry out the analysis in response to a Freedom of Information request submitted by fellow Lib Dem MP Lorely Burt.
In a letter to Mr Balls, Chancellor George Osborne, a Conservative, said: "Despite your recent attempts to rebuild a reputation for fiscal responsibility, the truth that was buried in the small print is now clear: the Labour Party is the single biggest risk to the economic recovery."
But, for Labour, shadow Treasury minister Chris Leslie said: "These are made-up numbers plucked out of the air by Danny Alexander. Labour will deliver a surplus on the current budget and falling national debt as soon as possible in the next parliament, as we said last week."
"How fast we can go will depend on the state of the economy and public finances we inherit."
Mr Leslie said the government was set to borrow £198bn more than planned "because they choked off the recovery and flatlined our economy for three years".