How Scottish is David Cameron?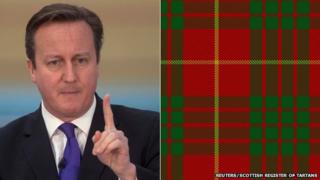 David Cameron has made his biggest intervention yet in the Scottish referendum debate, speaking of his pride in his Caledonian ancestry. But how Scottish is he?
"The ties of blood grow thicker," the prime minister said in 2012, evoking the UK's intertwined lineage.
"I am a classic case. My father's father was a Cameron, my mother's mother was a Llewellyn. I was born and have always lived in England."
There is a hint of Scotland amid the Welsh stock on his mother's side of the family: his mother's father's mother's father's father was from Fife.
But he could have traced his Scottishness back farther than his father's father on the other side of the family, and on Friday he returned to the theme and upped the ante.
"My surname goes back to the West Highlands," he said, in a speech at the Olympic Park, in East London.
"The name Cameron might mean 'crooked nose' but the clan motto is 'Let us unite', and that is exactly what we in these islands have done."
'Torn apart'
The Conservative MP for Witney is sometimes portrayed by critics as the archetypal upper crust Englishman - a product of Oxford University, Eton and true blue Middle England.
In his speech, he revealed that he had defied aides warning him that his advocacy of the status quo in the independence debate might weaken rather than bolster his case.
Scotland's Deputy First Minister, Nicola Sturgeon described the "Tory prime minister" as "the very embodiment of the democratic case for a Yes vote for an independent Scotland".
But the PM said he cared "far too much" about preventing the UK from being "torn apart" to stay out of the debate. "I am as proud of my Scottish heritage as I am of my English heritage," he added.
The chief of Clan Cameron, Donald Cameron of Locheil, told BBC News: "We are very proud to claim David Cameron as a member of the clan."
He had met the prime minister "a couple of times" and he was "very nice", he confided, before declining to say whether he would vote for or against independence: as Lord Lieutenant of Invernesshire, the Queen's representative, he is not allowed to get involved in politics.
The Cameron clan took part in the Jacobite uprising of 1715, against the Act of Union.
"We let our hearts rule our heads," said Donald Cameron of his clan's characteristics. "Cameron is an anagram of romance".
David Cameron was born in London, spending the first three years of his life in Kensington and Chelsea before the family moved to an old rectory near Newbury, in Berkshire. But his Scottish roots are well-documented.
'Strong links'
His great-great grandfather, Alexander Geddes, had travelled to Chicago and made a fortune as a grain trader, before returning to his native Scotland and building a grand country pile in Huntly, Aberdeenshire in the 1880s.
Mr Geddes's sons died in the First World War, but his daughter Rachel married Ewen Allan Cameron, eventually bequeathing the PM his clan membership.
Mr Cameron might also have been heir to Blairmore House, which remained in the family until the 1930s, but it was sold shortly after his father Ian Donald Cameron was born.
It had, by then, been home to four generations of the PM's forebears. The estate went on to house a primary school and is now the site of a Christian retreat.
"Mr Cameron's links with Huntly are strong - although he has yet to visit the town," said the Aberdeen Evening Express in 2010.
"We've never seen him round here," a resident told the Aberdeen Press and Journal in 2005.
"I could have sworn he was from London. Good luck to him, though. I'll be telling everybody he's from Huntly now - though I don't know if it will make them any more likely to vote for him."