Tory Party denies claims it advised MPs how to avoid minimum wage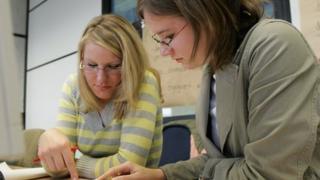 The Conservative Party has come under fire over claims it issued advice to MPs and candidates on how to avoid paying the minimum wage.
An internal Tory briefing on the legal differences between volunteers, interns and workers was leaked to careers blog Graduate Fog.
The TUC accused the party of bringing Parliament into disrepute.
But a Tory spokesman said the party was merely being a responsible employer and all parties relied on volunteers.
The two-page briefing note gives advice on how to recruit campaign volunteers and what they are legally entitled to, noting "regular payments of expenses are likely to give the volunteer the right to the minimum wage".
It also includes "lines to take" if candidates or MPs "feel a written response is required to a public query about the issue of unpaid interns".
'Hypocritical'
The "suggested template reply" says volunteers are under no obligation to work and it is a "great way to get a new generation involved in politics". It also stresses that the party is committed to retaining the minimum wage.
Tanya De Grunwald, founder of the Graduate Fog careers blog, who campaigns for fairer wages for interns, said: "The document is a strange one. It is unclear what purpose it serves - that is open to interpretation.
"At best, it is a 'dummies' guide' for Tory MPs on how not to accidentally exploit their interns. At worst, it could be read as a 'pass notes' for anybody who wants to hire staff and not have to pay them.
"Interestingly, the reaction from the public on Twitter has been to interpret it as the latter rather than the former."
In advising MPs on how not to break the law, she added, "has the Conservative Party actually ended up advising them how to get around the law?
"As the good bits of the document aren't clearly worded, I feel there is a risk that it will be used like that."
TUC General Secretary Frances O'Grady went further, claiming the leaked document proved the party was trying to get round the law.
"There has been growing cross-party support for a significant increase in the minimum wage. But it also has to be properly enforced.
"It brings parliament and the law into disrepute when MPs of any party seek to get round the minimum wage.
"It is disappointing to find frankly hypocritical advice from a party other than 'You must pay the minimum wage to everyone working for you'."
A Conservative Party spokesman said: "Like all political parties we have thousands of hardworking volunteers up and down the country who want to help us secure Britain's future through our long term economic plan.
"At the same time, because we are a responsible employer we provide guidance on the difference between volunteers and workers."
The government recently issued fresh guidance to young interns to ensure they are properly paid.
Labour and the Lib Dems have both promised to stop recruiting unpaid interns, although MPs from both parties have come under fire for continuing to do so.