David Cameron's prime questioners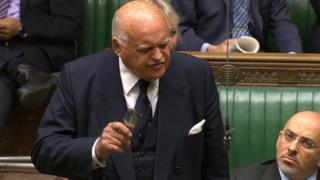 Conservative Sir Peter Tapsell has asked more questions of David Cameron at his weekly Prime Minister's Questions sessions than any other backbench MP, BBC research has shown.
The longest-serving member of the House of Commons pipped relative newcomer Lib Dem Julian Huppert to second place.
The prime minister has taken almost the same number of questions from Labour backbenchers as from Conservatives.
The gender balance of questioners also mirrors the ratio of female MPs.
The current crop of 147 female MPs, comprising 23% of the 650-strong Commons, have put 25% of questions at the sessions, widely known as PMQs, to Mr Cameron.
Convention dictates that the opposition leader is afforded six opportunities to question the PM each week.
Representatives of the most prominent smaller parties, such as DUP Westminster leader Nigel Dodds and Plaid Cymru's Westminster leader Elfyn Llwyd, are also allocated a certain share of questions by convention - and are therefore better considered separately.
Smaller parties' questions to PM since 2010
Nigel Dodds, DUP: 29
Elfyn Llwyd, Plaid Cymru: 16
Angus Robertson, SNP: 15
William McCrea, DUP: 12
Angus MacNeil, SNP: 12
Margaret Ritchie, SDLP: 12
Mark Durkan, SDLP: 8
Caroline Lucas, Green: 8
Naomi Long, Alliance: 7
George Galloway, Respect: 3
A proportion of questioners each week win the right to speak via a computerised lottery.
But beyond this, Commons Speaker John Bercow exercises considerable discretion over which MPs enjoy the coveted chance to raise topics of their choosing in the highest profile moment of the parliamentary week.
In a peculiar ritual, MPs bob up and down from their seats at regular intervals in a bid to catch the Speaker's eye and boost their chances of being called to contribute.
Analysis of Commons transcripts shows that, since the formation of the coalition after the 2010 general election, backbench MPs have asked an average of five questions each of Mr Cameron, or his stand-ins Nick Clegg and William Hague.
Leaving the opposition leader's questions out of the equation, there have been a very similar number of questions from Labour and Conservative benches:
But a small number of prolific interrogators from the largest three parties at Westminster, perhaps blessed with better bobbing technique, have posed multiples of the average number of questions per MP.
Sir Peter, leading the pack with 20, has concentrated his scrutineering on financial regulation and international affairs, striving to put current events into historical context.
A former merchant banker, father of the House Sir Peter often seems exasperated by the ethics of today's financiers.
"One of the key functions of Parliament over the centuries has been to diminish what the historians have called the overmighty subject," he once advised Mr Cameron.
"In the 18th Century," he continued, despite widespread hysteria in the chamber - a running gag among MPs is that his historical teachings are based on personal experience - "it was the Indian nabobs, denounced by Edmund Burke.
"In the 19th Century, it was the ruthless industrialists, humanised by Shaftesbury. In the 20th Century, it was the trade union leaders, tamed by Lady Thatcher.
"Today, the overmighty subject is the bankers. In the United States, the federal authorities are prosecuting a wide swathe of the top banks. When will that happen here?"
Having once worked for Conservative Prime Minister Anthony Eden, who resigned after the 1956 Suez crisis, Sir Peter is keen to steer PMs away from foreign-policy folly.
"As my right honourable friend sets forth on his pacific mission to Algeria," he said of Mr Cameron in 2013, "will he, with his great historical knowledge, bear in mind that when Louis Philippe sent his eldest son to Algeria in the 1840s on a similar venture, it took a century, massive casualties, the overthrow of the Third Republic and the genius of General de Gaulle to get the French army back out of the north African desert?"
"Answer!" shouted opposition MPs at the PM.
The Guardian's late sketchwriter Simon Hoggart once ascribed Sir Peter's popularity among Labour MPs partly to his willingness to criticise his own front bench.
"But mainly," he concluded, "they adore his magnificent style of speaking, as if at dictation speed for a team of monks who are illuminating his words as they are uttered."
Mr Huppert, a former research scientist specialising in biological chemistry who entered Parliament in 2010 as MP for Cambridge, has accrued his haul of questions to the PM despite often enduring loud groans from colleagues when he rises to speak.
He told the BBC in June that he was suffering from "bullying".
"There are clearly efforts by some MPs to try to make it harder for some people to speak, you can see this with a range of people," he said.
"It's happening to me at the moment it's happened to other people in the past it will happen to more people in the future which is what really upsets me. It's just simply unacceptable behaviour."
He has nonetheless used PMQs to highlight his party's anti-authoritarianism, pro-renewables, anti-nuclear weapons credentials.
Meanwhile, third-placed Peter Bone has crafted an idiosyncratic approach to PMQs, relying heavily on the wisdom of a one-woman focus group: his wife.