MP Jack Dromey denies paedophile group 'smear'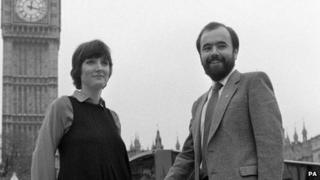 Labour MP Jack Dromey has rejected claims he did not do "much" to try to expel a paedophile group from a civil liberties organisation he worked for in the 1970s, calling them a "smear".
Paedophile Information Exchange founder Tom O'Carroll said Mr Dromey and his wife Harriet Harman had not wanted to "rock the boat".
Mr Dromey said that "no one" would believe this account of events.
O'Carroll was convicted in 2006 of child pornography offences.
Mr Dromey, Ms Harman, who is Labour's deputy leader, and former Labour Health Secretary Patricia Hewitt all worked for the National Council for Civil Liberties - the predecessor to the Liberty group of today - during the 1970s.
The Paedophile Information Exchange, which campaigned to lower the age of consent to 10, became an affiliated group in 1975 and remained so until 1983.
Mr Dromey, Ms Harman and Ms Hewitt have come under increasing pressure to discuss the links between the two organisations, with the Daily Mail in particular calling for an apology.
'Radical forces'
Speaking on BBC Radio 4's Today programme, O'Carroll confirmed he had been on one of the NCCL's committees and had been involved in a variety of discussions.
However, Ms Harman, Mr Dromey and Ms Hewitt had not sat on the committee.
Of their actions during period of the NCCL's link to the Paedophile Information Exchange (PIE), he said: "Really they [Mr Dromey, Ms Harman and Ms Hewitt] didn't do much to oppose PIE's presence, in my view. There were these other liberal forces, or radical forces, within the NCCL.
"The support didn't come from Harman and Hewitt but it was there. The Gay Liberation Front [also affiliated to the NCCL] was very radical."
O'Carroll added: "At the time Harman and Hewitt couldn't just kick us out, or they could but they didn't try. The reason was their careers in the NCCL depended upon them not rocking the boat too much."
The only one of the three Labour figures he had met was Ms Hewitt, at a conference in Sheffield in 1978.
O'Carroll said: "I spoke to her when we were just going up a floor in a lift. She was somewhat frosty."
He added: "My impression is she simply had great distaste for being in the same lift as me."
O'Carroll was sentenced to two and a half years in prison in 2006 for distributing child pornography images.
Mr Dromey, who served on the NCCL's executive committee from 1970 to 1979, said: "It is no surprise that a convicted paedophile, the like of whom I took action against during my time in the NCCL, should choose to smear me.
"The record is clear. I took on PIE and, when I was elected chairman, defeated by a massive majority at the 1976 NCCL annual conference a loathsome motion calling on the NCCL to support the so-called rights of paedophiles.
"Indeed my stand was denounced in a leaflet distributed by PIE to the delegates to the conference. Quite simply, no one will believe a man like Tom O'Carroll."
Ms Harman, who joined the NCCL in 1978, three years after the Paedophile Information Exchange became affiliated, and worked there until 1982 when she became an MP, has said she "regrets" the connection between the organisations but has insisted she has "nothing to apologise for".
Dame Tessa Jowell, who was culture secretary in Tony Blair's Labour government, told Today: "There's not one shred of evidence that they [Ms Harman, Mr Dromey and Ms Hewitt] gave any comfort to this revolting organisation.
"The important thing is to recognise what Harriet was doing at the time and what she's continued to do all her professional life."
But Andrew Pierce, associate editor of the Daily Mail, told BBC Two's Daily Politics: "We have never suggested that Harriet Harman supports paedophilia."
He added: "Everybody who was running the National Council for Civil Liberties at the time in a sense was complicit for not disassociating with that group. It's a very serious error of judgement."
Ms Hewitt, who was the National Council for Civil Liberties' general secretary from 1974 to 1983, has yet to comment on the story.
The National Council for Civil Liberties was founded in 1934 as a result of fears that the right to peaceful protest was under threat.
The Paedophile Information Exchange made national newspaper headlines in the early 1980s, when members faced charges of publishing and sending obscene articles through the post, and was disbanded in 1984.