Growing pains for UKIP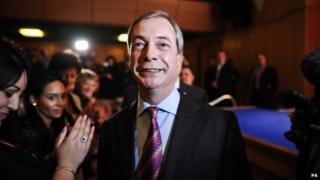 There is a useful shorthand for how UKIP conferences have changed.
They used to be the kind of dos with a lot of Blu Tack about.
The sticky stuff that held up the posters also somehow held back any sense the party was going places.
It all felt rather makeshift, temporary, like it might fall down. But now it is bye bye rubbery adhesive, hello plasma screens.
Yet, in broad terms, the party's instincts remain the same.
The special on the menu at the Riviera Conference Centre, pie of the day, provides a gastronomic insight into their comfort zone.
But this is a party that is growing rapidly and with that comes the growing pains of expansion.
With scrutiny has come embarrassment.
As UKIP has gained political altitude, there have been plenty of those 'return to your seats, strap yourself in' moments of turbulence.
But Nigel Farage doesn't give the impression of being a nervous political flyer.
Some politicians like to manage expectations at elections. In other words, talk down their prospects in advance so a good result looks even better. It's not a strategy Mr Farage will entertain.
"This is it. This is the big one for UKIP. We can top the polls," he told activists.
Those growing pains can be a real ache for UKIP, however.
The party has a new slogan: 'Love Britain, Vote UKIP'.
One snag - within hours of it appearing, the Guido Fawkes political website pointed out that it was a slogan used by the BNP.
Those managing UKIP's press operation were suddenly sounding jittery.
UKIP has spent years distancing itself from Nick Griffin's outfit, and then this. Mr Farage said his party was reclaiming the slogan.
Most observers concluded no-one within the party had done a quick web search to check if it had been used before.
The BNP, incidentally, took the opportunity to dismiss UKIP as "plastic patriots".
But the flip side of growing pains is getting taller.
The other party conferences often feel like trade fairs, with lobbyists from this interest and that attempting to bend political ears.
They didn't bother with UKIP, until now.
Those making the case for an expanded Heathrow Airport are here. They have spotted that UKIP's current manifesto resembles a ream of blank paper on the issue of aviation, as it is on plenty of other issues.
I noticed another example of a party growing in stature.
A lunchtime meeting about Sharia law attracted the press pack, hunting controversy. But it was interesting, because it was boring.
One contributor did suggest being Muslim and English was incompatible but he was angrily shouted down by everyone else.
A major staple of this conference was immigration. It is the issue that opinion polls and focus groups suggest resonates most with UKIP supporters.
Much more so, as it happens, than the UK's membership of the European Union.
Mr Farage's acknowledgement that he felt "slightly awkward" about the lack of English being spoken when he was on a train between London and Kent recently will grab a few headlines.
It isn't a policy, but a sentiment, a feeling. It is a feeling he knows some people will relate to and knows no other senior politician would articulate.
How he would change the lingua franca of the evening commute, beyond withdrawal from the European Union, remains an open question, just as their broader policy platform remains a blank page.
Oh and if the last few minutes of reading this article has felt like the Nigel Farage Show, he still dominates this political party.
He knows that and knows it limits their potential.
If they perform in May's European Parliament elections anywhere near as well as is widely predicted, that will begin to change.
Several women are among their leading candidates in the election.
Mr Farage says he will give up as leader if UKIP doesn't win seats at Westminster at next year's general election.
Until then, he is the boss. The man, who, for now at least, is smiling through those growing pains.
And whilst they're growing, it's pain he probably can live with.