Boris Johnson and the MP question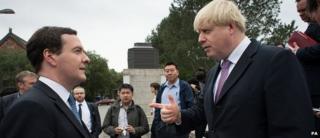 The Conservative Mayor of London Boris Johnson is seen by many as the obvious alternative leader for his party, with renewed speculation about his plans for a return to parliament.
It all seemed pretty clear. Boris Johnson said he would not stand for parliament before 2015. Speaking to LBC radio he also denied he had been approached by fellow Conservative, the Chancellor George Osborne, to stand as an MP.
His comments have caused quite a stir among political commentators - some have taken it as him definitively ruling out a return to the Commons. But as with everything Boris Johnson says it's not quite as clear-cut as that.
There have been reports for months that Boris Johnson - seen by some in the Conservatives as their "secret weapon" - could be looking for a safe seat ahead of the 2015 election.
It was reported on Saturday that David Cameron and Mr Osborne were trying to persuade him to stand so that he would be associated with the General Election result.
The idea is that this would tie Johnson in with the current leadership, rather than being seen as the party's saviour ready to take over in the event of a less than impressive result.
Asked about the reports he was being asked to get involved as the Conservative's "secret weapon", Johnson told his Monday morning LBC show: "They haven't actually made any such a plea to be perfectly honest."
He also played down newspaper reports of a rift with the chancellor - both men are believed to have ambitions to lead their party.
Mr Johnson said: "George and I have a good working relationship and indeed an old friendship and what we both want to do is get David Cameron re-elected. That is the project about which we are united."
When pressed whether he would be going into the Commons before 2015, he said no. He said he was sticking to his job as Mayor of London, which he was re-elected to in 2012.
But it is understood that he has not made up his mind whether to stand or not in 2015.
Privately, he is believed to be considering the possibility of a return to Westminster - he has already dropped hints. Last September he said during the debate on military intervention in Syria "for the first time in years" he wished he was in Parliament.
He also hinted at even loftier ambitions when he admitted he would like to "have a crack" at being the prime minister "'if the ball came loose from the back of a scrum".
He has always played down suggestions he would stand as an MP because he is committed to seeing out his full term as mayor, which runs until 2016.
Of course continuing in his role as Mayor would not preclude him from standing - there is a precedent for the Mayor of London simultaneously being an MP - Ken Livingstone, was the MP for Brent East and the mayor for a thirteen month period.