Ukraine: UK rules out Russia trade curbs?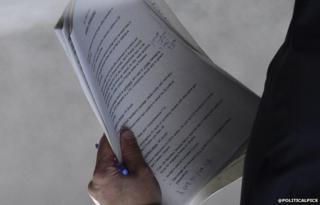 The government will not curb trade with Russia or close London's financial centre to Russians as part of any possible package of sanctions against Moscow, according to an official document.
The document, which was photographed as a senior official carried it into a meeting in Downing Street, says that "the UK should not support for now trade sanctions or close London's financial centre to Russians", while it confirms that ministers ARE considering - along with other EU countries - visa restrictions and travel bans on key Russian figures.
It also says that ministers should "discourage any discussion (eg at Nato) of contingency military preparations" and support "contingency EU work on providing Ukraine with alternative gas" and oil supplies "if Russia cuts them off".
Until now ministers have made no specific threats of action against Russia and Downing Street have stressed the need to keep open the possibility of de-escalating the crisis.
The prime minister said this afternoon that Russia would face "diplomatic, political, economic and other pressures" to send a "clear message" about its actions in Ukraine.
'Significant costs'
The reason for this form of words is clear. Public statements should for now be kept "generic", the document says, whereas specific threats should be "contingent and used for private messaging".
This is in stark contrast to the specific hardline threats made by US Secretary of State John Kerry yesterday.
One senior government source told me: "We prefer to speak softly and carry a big stick."
They stressed that European countries were pursuing a deliberate policy of showing to Russia that de-escalation was still possible whilst being clear that "significant costs" would follow if Moscow does not seek a peaceful conclusion to its dispute with Ukraine.
I understand that the prime minister hopes to speak to Germany's Chancellor Merkel tonight. The German attitude is regarded as crucial since they are traditionally in favour of a less confrontational approach to Russia and are heavily dependent on Russian gas and oil.
Downing Street is refusing to comment on a secret document though I understand that other scenarios were considered at a meeting of the National Security Council today