Nick Clegg: Revamp oversight of intelligence services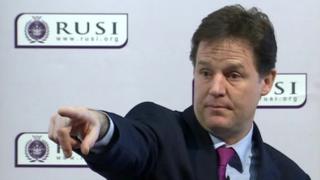 Nick Clegg has urged the Conservatives to back a "significant revamp" of the oversight of the intelligence services.
The deputy prime minister said details of the requests for data made by the government from internet and telephone providers should be made public in an annual report.
The intelligence and security committee was widely seen as "too deferential" and needed reform, he added.
But there was no agreement within the coalition on the proposals, he said.
In an article for the Guardian ahead of a speech at the Royal United Services Institute (Rusi), Mr Clegg said he had "nothing but praise" for the professionalism of the security services.
But he questioned whether the legal framework within which they operate was "fit for the internet age".
'Too cosy'
Leaks of intelligence documents by ex-US security contractor Edward Snowden have revealed details of major data-harvesting operations by the UK's GCHQ and its US counterpart, the National Security Agency.
"It is not enough for the agencies to claim that they strike the correct balance between privacy and national security: they must be seen to do so," Mr Clegg said.
"That means greater transparency, and strong, exacting, third-party oversight."
He proposed a series of reforms, including the creation of a new website, called surveillance.gov.uk, which would act as a single source of information about the work of the intelligence services.
Parliament's intelligence and security committee, which is made up of MPs and peers, was "widely seen as being too deferential to the bodies it scrutinises" and should get more power and more resources, he said.
Its chairman, currently former Conservative foreign secretary Sir Malcolm Rifkind, should in future be a member of the opposition, "to avoid accusations that the committee is too cosy with the government of the day", he argued.
'Inspector general'
Appeals against decisions of the Investigatory Powers Tribunal, which at present have to go to the European Court of Human Rights, should be allowed in the UK, he added.
There should also be a new post of "inspector general for the UK intelligence services", the deputy PM concluded.
"I have not yet been able to agree these ideas within government with my coalition partners but I believe they are important and much-needed reforms," he concluded.
"I hope that both the Conservative and Labour parties will support them sooner rather than later."
Shadow home secretary Yvette Cooper on Monday called on the government to engage in a serious public debate on privacy, data and the private sector.
Labour wants new powers for police and security services to crack down on cyber crimes but only with extra checks on how crime agencies are using sensitive data, she added.