Should Boris still be wooing foreign property investors?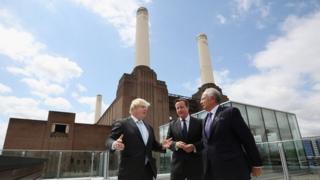 The bubbly will be flowing and the harbour crammed with yachts at the world's biggest property fair next week in Cannes. What are Boris Johnson and other UK local authority leaders doing there?
Every year thousands of property developers, bankers, lawyers, estate agents, investors - and a smattering of Russian oligarchs and Arab oil billionaires - descend on the South of France, for four days of deal-making and partying.
MIPIM, as it is known, is legendary for its size and extravagance. It is also the one time in the year that the world's richest property speculators can be guaranteed an audience with big decision-makers from the world of politics.
Ken Livingstone held court at private dinners with the UK's top property developers at MIPIM, as they plotted the transformation of London's skyline and the regeneration of unglamorous corners of the capital, such as King's Cross and Cricklewood.
Boris Johnson is also a regular in Cannes, where the event has been held since the 1990s, banging the drum for London as a place to invest.
But the mayor's attendance at this year's event is coming under fire from housing campaigners, who accuse of him of selling the city to the highest bidder - at a time when many Londoners are struggling to find an affordable home to rent, let alone buy.
'Decent homes'
The consensus at Westminster is that politicians must take every opportunity to seek inward investment.
But the Green Party of England and Wales - and voices outside the Westminster mainstream - are questioning whether this approach works when it comes to property, particularly with the market in London in danger of overheating.
Green Party leader Natalie Bennett said: "Ultimately, we have to go back to regarding houses and homes, not investments, and look to restore investment in productive activities such as manufacturing, the creative industries and food production."
The Radical Housing Network, who on Thursday staged a protest outside City Hall, with the London Green Party, claim the mayor and other local authority leaders will be using MIPIM to sell public land and approve regeneration plans for more hotels, offices, luxury housing and shopping centres over the heads of voters.
Nic Lane, from Brent Housing Action, says: "We, the people who have been affected by deals made at MIPIM by our 'representatives' knew nothing of these deals until it was too late.
"Residents all over London are being forced out of their communities because of rising rents, and the building of unaffordable 'affordable' housing schemes to replace council housing."
Liliana Dmitrovic, of socialist campaign group People's Republic of Southwark, added: "We went to City Hall to show that our land, our cities, and our homes, will not be sold by politicians to line the pockets of developers. These are the individuals responsible for the housing crisis, and we believe that everyone deserves a decent home."
The campaigners highlighted redevelopment deals done by London councils at MIPIM with property developers, which they claim have led to council tenants being forced out of their homes.
The 'London not for sale' demonstration is part of a series protests across Europe, leading up to a "People's Tribunal" against property speculation at MIPIM on Wednesday, 12 March.
What angers campaigners in London the most is Mr Johnson's decision to scrap the 50% target for affordable housing in new developments, which was rarely met in any case, in favour of a numerical target.
The definition of "affordable" has also been changed, to mean 80% of market rent.
'Ghost mansions'
Mr Johnson is also taking a more active role in the planning process, threatening to over-rule individual boroughs who want to block developments or demand more social housing.
Plans to build 700 private flats - 81 of which will be "social rented" homes - on the site of a Royal Mail sorting office, in Mount Pleasant, North London, is the latest big project to be "called in" by City Hall's planning team.
Developers say this is the only way London will get the new homes it so badly needs.
The Royal Mail says it cut its original target of 20% affordable homes to 12% as that was the only way to make the site, which will continue to house a sorting office, financially viable - but the final decision rests with the mayor.
In 2013, 18,000 homes were built across London - just over a third of the number actually needed, according to research by property experts CBRE.
The interactive content on this page requires JavaScript
Critics say ordinary Londoners will not be able to afford most of the new homes that are being built. At the top end of the market, the global super rich are building up London property portfolios as a "reserve currency," with more than 700 "ghost mansions" - worth a total of £3bn - standing empty, according to the Evening Standard.
But there is also a booming market in more modest "luxury flats" on big new developments, funded by foreign investors, who are more willing to take a risk on major projects than traditional UK house builders - if prices are going up, the CBRE's head of residential research Jennet Siebrits told The Financial Times.
'Profile raising'
The CBRE says developers from four nations - China, Singapore, Malaysia and Qatar - have permission to build more than 33,000 homes in London, and they hold twice as many sites as those being developed by affordable-house builders such as housing associations.
Boris Johnson's office argue that housing campaigners have not only failed to grasp the point of his trip to MIPIM, they have not given him enough credit for his social housing programmes.
In a statement, a spokesman for the mayor said: "London, together with other major cities around the UK and across Europe, will be represented at MIPIM to attract vital investment to build the infrastructure, offices and homes necessary to continue to create jobs and support the capital's economic growth post-recession.
"The mayor is attending MIPIM to directly lobby key investors and developers to help double house-building, including more affordable homes, and fund major regeneration projects around the capital.
"In addition he is doing everything in his power to boost housing supply and has released the majority of public land he owns for development, as well as securing an extra £1.25bn to expand his programme to build 100,000 low-cost homes."
Developers say they have had to raise cash from foreign investors to stay afloat as the economy emerges from recession.
Liz Peace, chief executive of the British Property Federation, said: "Raising capital to fund any type of development has been very difficult over the past few years, so that those who helped keep development going, including investors, during that time should be congratulated not pilloried."
Representatives from at least 20 local authorities across the UK are also sending delegations to the South of France:
Bath, Bolton, Bristol, City of London, York, Derby, Glasgow, Greater London, Greater London Authority, Leeds City Region, Leicester, Ealing, Hounslow, Scottish Cities Alliance, Sheffield City, South Gloucestershire City, Cardiff City, Wakefield, Coventry, Southwark
But, for most of these local authorities, a shortage of housing is not the biggest issue they face. It is all about jobs and investment.
Sheffield City Region, a public private consortium set up to boost regional development, plans to attend MIPIM for the first time in years.
"It is about profile raising. If you are not there, you are not part of the conversation," says Simon Collingwood, of PR agency Counter Context, which is helping to set up the trip.
In contrast to Boris Johnson, who will be flown in with his team and put up in a top hotel at the organisers' expense, the Sheffield delegation will be relying on funding from local developers and businesses to cover its expenses, including the £1,300 entrance fee.
The aim is make big international investors aware that Sheffield exists - so that they think of spending money on new retail and industrial developments there instead of London.
MIPIM may look like the mother of all junkets - and some of the local authorities going this year are coming under fire for clambering aboard the gravy train for the South of France - but if Boris Johnson is there, they have to be there too.