EU vote plan blights UK business investment, says Cable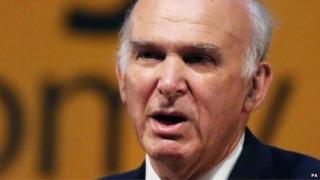 David Cameron's commitment to an in/out referendum on Europe is "blighting" investment in the UK, Business Secretary Vince Cable has warned.
The Lib Dem minister fears firms will "look elsewhere" to invest if access to the EU market is jeopardised.
The comments came as the Lib Dems began their spring conference in York.
Mr Cameron says a full renegotiation of the relationship between the UK and Brussels is needed and voters need a say on the issue of EU membership.
The European Parliament elections take place in May and the Lib Dems have been keen to promote themselves as the most pro-European of the three main Westminster parties.
Leader Nick Clegg is to take part in two debates - one on TV and one on radio - with Nigel Farage, leader of the UK Independence Party, in April.
'UKIP-induced funk'
Mr Cable said it was "right to take the fight to UKIP".
But he warned: "As much damage is also being caused by the Tories in the UKIP-induced funk."
Mr Cameron says he will hold an in/out referendum on the UK's membership of the EU by the end of 2017 if the Conservatives win a majority at the next general election.
Mr Cable told activists: "The possibility of a Tory government after the election and the uncertainty around a referendum in three years' time is creating a blight over the business investment which we desperately need to support recovery and jobs.
"I meet businesses on a daily basis - from car makers to banks, big and small, British, Japanese, American, Indian, German.
"They tell me that they invest, or will invest, in Britain because they have guaranteed access to the EU single market.
"But they have other options: if that access is put at risk, they will look elsewhere."
Mr Clegg will not address the opening rally, but he will take part in a question-and-answer session on Saturday, ahead of his closing speech on Sunday.
The conference will debate proposals to force EU migrants to wait twice as long to gain access to the UK benefits system, as part of a Europe-wide tightening of the rules.
Activists will also debate a digital "bill of rights" and the establishment of an expert commission to review state surveillance following the revelations by US whistle-blower Edward Snowden about the UK's intelligence agency GCHQ.