Cameron and Clegg under fire over foreign staff after 'elite' claim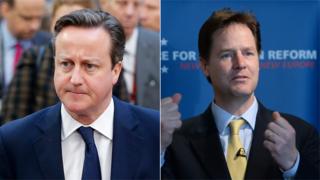 David Cameron and Nick Clegg have been criticised for employing foreign domestic staff after a minister attacked the "metropolitan elite" for using cheap migrant workers.
Home Office minister James Brokenshire said the wealthiest were the main winners from free movement of labour.
The losers had been ordinary workers whose wages had stagnated, he added.
A Labour MP is demanding to know which ministers have hired foreign domestic staff, and how much they are paid.
In a speech on Thursday, Conservative MP Mr Brokenshire said: "For too long, the benefits of immigration went to employers who wanted an easy supply of cheap labour, or to the wealthy metropolitan elite who wanted cheap tradesmen and services, but not to the ordinary, hard-working people of this country.
"Those who tend to lose out most when there is uncontrolled immigration are manual and low-skilled workers who have to compete with an influx of people from poorer countries who are willing to work for less."
The prime minister has employed domestic staff from Nepal and Australia since entering Downing Street, with the former recruited from Kalayaan, a charity that helps immigrants to escape abusive bosses.
A Nepalese nanny, Gita Lima, took a temporary leave of absence in 2012, during which an Australian nanny filled in.
It later emerged that Miss Lima had been granted British citizenship.
Mr Cameron's spokesman said: "We have always said we want people who want to work hard and get on. Do we want the brightest and the best? Yes we do.
"And that would absolutely include, for example, Mr and Mrs Cameron's nanny as someone who wants to work hard and get on.
"As a result of coming to this country and working hard and getting on, she is now a British citizen."
Downing Street insisted that all the "proper processes" had been followed and Mr Cameron had not written a letter in support of her citizenship application.
The Liberal Democrat leader and Deputy Prime Minister Mr Clegg said during his weekly phone-in programme on LBC radio: "I have a lady who has a Belgian passport who helps us."
He later added: "I'm married to woman who is Spanish, my mother is Dutch. I'm not going to start apologising for having people with European passports under the roof of my home."
But Labour MP John Mann said: "We need every cabinet minister to declare what staff they have employed from abroad.
"They should be seeking out British staff."
He added: "It is total hypocrisy. they need to make up their minds on this. That is why we should have everything out in the open."
The Labour Party has been contacted for a comment on the nationality of any domestic staff employed by Ed Miliband.
'Displacement'
The Lib Dems are the most pro-EU of the main parties in Westminster, and Lib Dem Business Secretary Vince Cable has said that the recent rise in net migration was good news for the economy.
Britain needed the dynamism and creativity migrants can bring, Mr Cable argued.
Mr Brokenshire's predecessor as immigration minister, Mark Harper, was forced to stand down after he discovered his cleaner did not have permission to work in the UK.
The new immigration minister said the number of new arrivals from the EU was "just too high".
And, in a dig at Mr Cable, he added: "Some have tried to claim that this rapid increase is somehow 'good' for the country. Well, just like the home secretary, I disagree."
He warned: "Uncontrolled mass immigration can force wages down and house prices up and put pressure on social cohesion and public services. And let me be clear - it can also cause displacement in the labour market."