Nick Clegg 'to lead Lib Dems until 2020'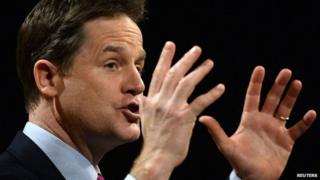 Nick Clegg has indicated that he intends to remain Liberal Democrat leader until at least 2020.
The deputy prime minister's spokesman said he wanted to stay in the job for the "whole of the next parliament".
This ambition would remain in place "whether or not we're in government", he added.
The statement comes amid speculation that Chief Secretary to the Treasury Danny Alexander is positioning himself for a Lib Dem leadership bid.
Mr Clegg has led the party since 2007, when he took over from Sir Menzies Campbell.
'No vacancy'
Due to a change in the law brought in by the coalition, general elections are scheduled to take place every five years, with the next two set for 2015 and 2020.
The deputy prime minister's spokesman said: "Nick Clegg intends to be the leader of the Liberal Democrats today, tomorrow, into the 2015 election and through the whole of the next parliament.
"He intends to be leader of the Liberal Democrats whether or not we are in government."
Mr Alexander faced questions about his ambitions following press reports he was "on manoeuvres" against a potential rival for the top job, Business Secretary Vince Cable.
Speaking on Sky News's Murnaghan programme, he said: "There's no vacancy. I hope there isn't a vacancy for many years to come. I think Nick Clegg is doing a fantastic job.
"I've got a big job to do to make sure that we continue the policies that are making our economy recover, delivering those tax cuts and getting across to the British people that this economic recovery and those income tax cuts wouldn't be happening without the Liberal Democrats in government."
'Renewal'
Mr Alexander, an ally of Mr Clegg and his former chief-of-staff, added: "I think that is more than enough on my plate for the moment."
The Lib Dems have come fourth, behind the UK Independence Party, in many recent opinion polls.
But many pundits suggest the party could be involved in another coalition from 2015, if, as in 2010, no party wins an overall majority.
Closing the Lib Dem spring conference in York, Mr Clegg said he wanted the party to remain in government, telling delegates: "We've been in emergency mode for the last four years, but that is slowly changing.
"If this parliament has been about a rescue, the next will be about reconstruction and renewal."