'Hospital closure' powers plan dangerous - Labour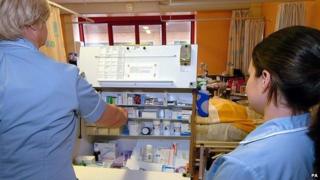 Labour has criticised government plans to allow the Department of Health greater powers to close hospitals, saying they put finance, rather than patient care, "in the driving seat".
MPs will vote on the proposal, part of the Care Bill, on Tuesday.
Shadow health secretary Andy Burnham said closing financially failing NHS trusts within 40 days of a decision being made was "dangerous".
But the government says the powers will allow it to improve overall healthcare.
Clause 119 of the Care Bill would enable the Department of Health to appoint a "trust special administrator", who is able to recommend changes to services across an entire region of England.
Lewisham case
They would be allowed to close or downgrade services within 40 days.
Critics say this will mean communities will be unable to battle to save facilities once the decision has been made.
Clause 119 was inserted into the bill after the High Court ruled last October that Health Secretary Jeremy Hunt had acted outside his powers when he decided the emergency and maternity units at Lewisham Hospital, in south-east London, should be cut back.
There have been several other high-profile campaigns to save hospitals and services earmarked for closure in recent years.
The bill, which began in the House of Lords, will be debated in the Commons this week.
Mr Burnham told BBC Radio 4's Today programme: "Jeremy Hunt is now trying to ram these new rules through Parliament. It's wrong, dangerous and, in my view, will damage public trust in the NHS."
'Context'
He added: "Hospitals will need to change but I would argue that this is emphatically not the way to do it. Change shouldn't ever be imposed on local communities."
Mr Burnham also said: "The problem with this is it puts finance in the driving seat and it changes hospitals with financial reasons at the forefront.
"Given the growing financial problems in the NHS, I would say that all hospitals in England won't be safe if this change goes through."
He added: "Just to take out services for financial reasons is absolutely the wrong way to go. It risks alienating the public from this whole process.
"The clinical case for change must be forced into the centre. Will it save lives? Will it reduce harm to patients if we make this change? And if there isn't a clinical case for change, then I don't believe that change should go ahead."
But former Conservative Health Secretary Stephen Dorrell told Today: "The key thing here is that, when you look at a hospital that's in difficulties, it's vitally important that it's looked at in the context of the local health services as a whole.
"It's the greatest mistake you can make thinking about the hospital without thinking about the full range of health services provided by the GPs, by pharmacists, by community nurses and the full range of the health service that's provided by each community."
He added: "This is a national health service; it isn't a series of local health services. It's important that we look at how to improve... in order to deliver very-high-quality hospital services, but also to remember that the vast majority of health care is delivered outside hospitals, and none of us want to be in hospital if we don't need to.
"The risk is that we end up with too much money being spent preserving hospitals rather than preventing illness and enabling us to live healthier lives. That's what it's supposed to be about."
The government has said the proposed powers would only be used "in extremis", where they are vital to ensure "safe care".