Lib Dem Stephen Williams attacks own department's policies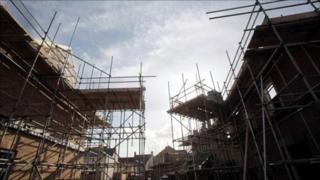 A Lib Dem minister has criticised several of his own department's policies, describing a flagship housing initiative as "unfair" and referendums on council tax rises "absurd".
Stephen Williams made the comments to a fringe meeting at the party's spring conference, the Yorkshire Post said.
He reportedly told activists the new homes bonus, which rewards councils for new housing schemes, was flawed.
A spokesman later said the MP was referring to "Conservative priorities".
Lib Dem ministers have traditionally used their party conferences to air differences with their Conservative coalition partners, although it is more unusual for them to criticise their own department's policies.
Mr Williams, the Lib Dem MP for Bristol West, became a minister in the Department for Communities and Local Government in October's government reshuffle.
In his brief, he is responsible for localism, community integration, building regulations and empty homes.
'Speaking freely'
According to the Yorkshire Post, he told party members at the two-day event in York that he disagreed with two of his own department's most high-profile policies.
Launched in 2011, the new homes bonus offers grants to councils in England based on the number of homes built locally, and is cited by ministers as a central pillar of the government's efforts to increase house building.
But Mr Williams said that "speaking freely as a Lib Dem MP", he was "not a fan" of the initiative.
"I don't think it's an incentive, necessarily, for local authorities to give planning permission. I don't think it's actually driving decision-making on the ground."
As many areas could not build much extra housing for geographical reasons, it was "not a fair opportunity", he added.
Council taxes
He also took issue with his department's insistence that authorities raising council tax by more than 2% must hold a referendum to get public backing.
"A referendum on tax rises is absurd," he said. "If we had it for income tax, VAT, then the country would probably grind to a halt."
In contrast, he suggested town halls should actually have far more scope to raise their own taxes, for instance by being able to levy a tax on hotel rooms in major tourist centres.
Mr Williams is also reported to have said his colleague, planning minister Nick Boles, was "hated" by many Tory MPs and any comparison between him and his boss, Communities Secretary Eric Pickles, was a "grievous insult".
Speaking later, a spokesman for Mr Williams said the MP was responding to concerns from party members about the impact of certain Conservative-led policies and whether or not the Lib Dems would endorse them at the 2015 election.
"The new homes bonus and the council tax referendum threshold were Conservative priorities we agreed to when going into government," he said.
'Chaos'
But Labour said his remarks had thrown the new homes bonus, and housing policy in general, "into chaos".
"Labour has already warned that all it does is give money to areas where homes would have been built anyway and takes it away from places in the greatest need," said shadow local government secretary Hilary Benn.
"We are used to Lib Dems criticising their own government's policies while voting for them, but it is extraordinary for a minister to comprehensively rubbish his own department's approach."
The Department for Communities and Local Government said the new homes bonus was in the coalition agreement approved by both parties in 2010.
"Prior to 2010 councils could lose central government funding as a result of building new homes," a spokesman said.
"Thanks to the New Homes Bonus, communities are now given a share of the economic growth from new housing.
"Councils have so far received £2bn for delivering 550,000 homes, and they are free to spend this money in any way they choose for the benefit of their local area."