MPs deserve pay increase, says Bob Crow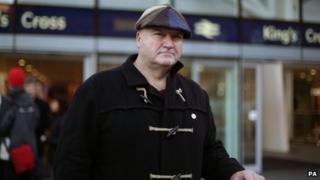 MPs deserve a pay rise so they are not forced to "scramble around the place", union leader Bob Crow has said.
Their pay is set to rise by 11% to £74,000 after the 2015 election.
David Cameron, Ed Miliband and Nick Clegg have all criticised the move.
But the RMT boss, who is reported to earn £145,000 himself, told the BBC that MPs should be "paid adequately" so they could have "decent accommodation" and those without private income were not deterred from public service.
The decision by the parliamentary watchdog Ipsa to recommend a one-off rise of £7,600 in MPs' pay after 2015 has been widely criticised, including by MPs from all parties.
'Live in a tent'
Although the regulator argues MPs' pay has fallen behind those of comparable professions, critics say such a jump in salary would send the wrong message after millions of public sector workers have seen their wages frozen or capped in recent years.
But, in a wide-ranging interview for BBC Radio 4's PM programme, Mr Crow said that MPs were "serving civilisation" and should be "paid accordingly".
"I do believe they should have a pay rise," he said.
"Some people might think that these MPs should live in a tent, they should have four to a room.
"I want my MP, particularly those who don't live in London who've got to travel down into work in London, to have decent accommodation to go home to. I want them to have a proper meal, I don't want them to scramble around the place."
Job 'well' done
Mr Crow said he shared the concerns of those who believed that prospective MPs could be put off standing for parliament if they were expected to take a big pay cut.
"I do believe that the MPs should be paid adequately because what you will get, in my view, is a lot of people not going into parliament because they'll say that we're going to lose out."
Mr Crow defended his own pay packet, which he suggested was closer to £90,000 when pension and national insurance contributions were deducted. His job, which he said he did well, was to defend his members' interests.
"Our members, in the main, have had pay rises every single year right the way through austerity."
The union boss has clashed frequently with both Conservative and Labour ministers in the past, with David Cameron calling for a rethink of laws on union strike ballots following last month's walkouts on the London Underground.