Audit Commission 'needs to be reinvented', says think tank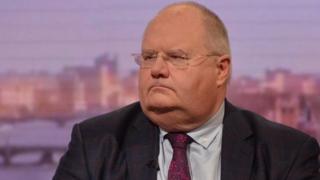 Local government spending watchdog the Audit Commission, which is in the process of being abolished, should be "reinvented", think tank the Institute for Government has concluded.
The principle that auditors should be genuinely independent had been "seriously undermined", it warned.
The decision to abolish the watchdog and create an interim successor body had "no logic", it added.
Ministers have said the move will save public money and boost transparency.
But a report by the Institute for Government's Nicholas Timmins and Tom Gash suggested that the government might have been motivated by an "element of pique".
The process of abolishing the body began in 2010, but was delayed as officials worked out how to replace it.
The commission's in-house audit team was outsourced in 2012, but the residual commission currently continues to have a role in contracting private-sector auditors to perform the tasks it once undertook itself.
"By any standard - and, indeed, in the eyes of many of those involved in the decision to get rid of it - the Audit Commission had been one of the most successful regulators, inspectors and improvement agencies in the recent history of British government," it argued.
'Little sense'
"A key and ancient principle of public audit (genuinely independent appointment of auditors) has been seriously undermined, and a more modern one (that there should be an independent body to stand behind those auditors) has disappeared.
"Likewise, central procurement of council and some other public-sector audit, and oversight of whether claims for extra auditing fees from the private sector are justified, will disappear.
"It makes little sense to scrap the existing centralised function, not least because, on the grounds of value for money and oversight, the coalition is itself deliberately centralising the procurement of many essential, routine services - of which audit is one."
Under the successor regime to the Audit Commission, the report continued, local authorities could no longer be required to standardise information.
"However good armchair auditors, think-tanks and academics prove to be at analysing the wealth of data that is now being published - and the Institute is all in favour of that data being easily available - it requires standardisation, and the knowledge to interpret what it shows, in order for it be used to produce really reliable conclusions."
The institute concluded: "In one form or another, and doubtless under a different banner, a Commission for Audit to cover at least those three roles - a guarantee of independent audit, standardisation of data and ideally a central procurement and oversight function - needs to be reinvented."
'Micromanaging'
Local Government Minister Brandon Lewis said the Audit Commission was abolished "because it was a wasteful, ineffective and undemocratic".
He said: "What should have been a voice for taxpayers became a creature of the central state.
"Instead of just auditing accounts, it was regulating, micromanaging, and inspecting, forcing councils to spend time ticking boxes and filling in forms rather than getting on with the business of local government.
"Our new law will replace this old fashioned quango by passing power down to people through more local choice and transparency. Better local audit arrangements will replace central dictat and as a result we remain on track to save taxpayers £1.2bn."
In late 2012, the commission's 700 in-house auditors were transferred to private-sector firms. Before that, the commission had been outsourcing 30% of its auditing work.
Under the Local Audit and Accountability Act the remnants of the commission will be replaced by a new system of local auditing.
Local authorities will need to set up independent panels to make recommendations on who should audit them.
Should councillors opt to veto their panel's recommendations and make their own arrangements, they will have to explain why they have done so in a public statement.
Under the plans, the smallest local public bodes - those spending less than £25,000 a year - will no longer be audited.
The government anticipates that those with marginally higher budgets - largely parish councils - that might nonetheless struggle to afford commercial auditors by themselves will be able to join a new scheme enabling them to buy auditing services in bulk.