I don't envy Nick Clegg, says Vince Cable's wife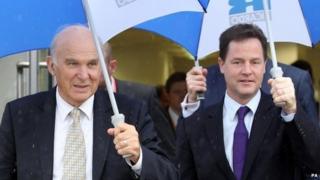 The wife of Vince Cable has admitted she is "not wild" about the idea of her husband becoming Liberal Democrat leader after the next election.
Newspaper reports suggest the business secretary is keen to ensure he takes over if Nick Clegg leaves the job.
But Mr Cable's wife, Rachel Smith, said she did not relish the "opprobrium" Mr Clegg had faced in recent years, describing him as "so resilient".
"I'm quite a big fan of Nick's," she told the Daily Telegraph.
There is speculation that Mr Cable and Chief Secretary to the Treasury Danny Alexander are positioning themselves for leadership bids if Mr Clegg stands down at some stage after the 2015 general election.
But the deputy prime minister's spokesman insisted on Sunday that he intended to continue for at least the whole of the next parliament, which is set to end in 2020.
'Very hard'
This was the aim "whether or not we are in government", he added.
Mr Alexander, a long-time ally of Mr Clegg, has played down any leadership ambitions, saying he has "more than enough on my plate for the moment".
Ms Smith told the Telegraph: "When people mutter about Vince being leader, I ask: 'Has it occurred to you that the opprobrium Nick currently suffers will be our lot? I'm not wild about that!'"
She added: "He was an anthropologist and did the same course as me at Cambridge. We both have a Dutch connection (my ex was half-Dutch). Nick is personally so resilient. I admire that."
The coalition had been "very hard" for Mr Clegg, she said, adding: "I don't envy Nick that problem."
Ms Smith also expressed her "sympathy" for politicians' wives who speak out.
She said she felt for Sally Bercow, wife of House of Commons Speaker John Bercow, who has faced criticism for appearing on the reality TV show Celebrity Big Brother and appearing in a newspaper clad in a bedsheet.
Ms Smith said: "She obviously does need to be herself and to be out there in the public domain, but I remember Sandra Howard (wife of ex-Conservative leader Michael Howard) saying: 'As a wife you don't make a campaign, but you can very easily, inadvertently break a campaign.'"