Minister rejects quotas to raise region's voice in Lords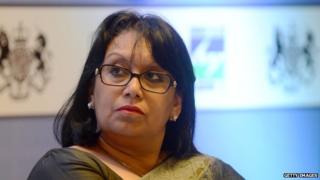 A government minister has ruled out special quotas to increase the low representation of the East Midlands in the House of Lords.
But Baroness Sandip Verma of Leicester, says the region needs to speak up louder so its voice can be heard.
Lady Verma, a Conservative peer, was responding to a survey that revealed only 2% of working peers were from the region, as I reported in an earlier blog. More than a quarter are from Greater London.
"I was surprised it was only 2%, but we mustn't go down the road of having a certain percentage from each region," she told me.
"What we do in the House of Lords is to scrutinise legislation for the whole of the country.
"Representation is really up to the House of Commons and it's for them to reflect their constituents and regions."
It was research based on figures from the House of Lords library that shows that out of 432 so-called working peers, who attend 50% of sittings, only nine were from the East Midlands. Baroness Verma is one of them.
"I'm afraid we in the Midlands aren't really good at showcasing those people who be should be nominated for the House," she added.
Baroness Verma was appointed to the Lords by David Cameron in 2006. In fact, she chose her mother's birthday on 22 June for her formal introduction as a member of the "Upper House".
She's now a junior minister in the Department for Energy and Climate Change.
But she accepts that the system of nominations to the Lords can be difficult to navigate.
"I think we need to talent-spot ourselves, so we can bring forward people from the Midlands - both East and West - who should be here.
"We must make our voices louder. But there mustn't be a false system to achieve that, otherwise it becomes just about lists, targets and numbers."
A Labour peer, Nottingham-based Baroness Ruth Lister, had earlier raised concerns over the low level of East Midlands representation.
But does Lady Verma believe the region is at a disadvantage when legislation is made and shaped by the Lords?
"No, I don't agree with that. If MPs are doing their jobs, it's for them to raise the concern of their areas and regions.
"Our job is to look at the legislation 'in the round' and to ensure that concerns raised by elected members are reflected in how the legislation is formulated," she added.
Ruth Lister had told me there was no "easy fix" to regional under-presentation.
Baroness Verma certainly wants more East Midland voices in the Lords. But how to achieve that, she says, is a real dilemma.
The issue will be debated on Sunday Politics East Midlands on BBC One at 11:00 BST with Mark Spencer, Conservative MP for Sherwood, and Labour's Chris Williamson, MP for Derby North.