Clarke warning over EU treaty battle 'nightmare'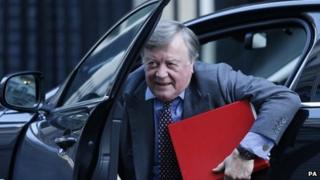 Ken Clarke has said it would be "foolish" for the UK to insist on rewriting EU treaties as a way of securing its objectives in Europe.
The pro-EU Tory minister said it was preferable for the UK to negotiate changes through a political agreement with Germany and other key players.
In a speech in London, he suggested most Tory ministers were pro-European and many eurosceptics were "eccentric".
David Cameron has hinted treaty change will be needed to get a better deal.
The prime minister has said that, if the Conservatives win the next election, he will seek to renegotiate the terms of the UK's membership and put the result to a referendum in 2017.
In recent days, Mr Cameron has set out a seven-point plan for reforming the UK's relationship with Brussels, including changes to rules on migration and benefits, greater deregulation, more powers for national Parliaments and less interference by the European Court of Human Rights.
'Seven years'
He has said some of these changes will "best be achieved" by changes to EU treaties, a process in which the UK will have a veto, while others will require "different means".
Speaking at the launch of a pamphlet by European Mainstream - a group of MPs committed to maintaining the UK's influence within the European Union - Mr Clarke said the UK must focus on the substance of the changes it was seeking not the technical means of bringing them about.
"If you need a treaty change you need a treaty change," said the former chancellor, who is now a Cabinet Office minister.
But he added: "The idea that you start off by saying 'We have got to find something that requires an inter-governmental change and a treaty change', is not where we are and would be a somewhat foolish way of going about it, particularly as intergovernmental conferences are usually quite a nightmare to handle.
"We managed to get the Lisbon Treaty, which I personally spoke in favour of, but it took us about seven years and it didn't actually change very much when we got there."
Mr Clarke acknowledged that pro-European Conservatives often struggled to make their voices heard in the current political debate.
"The price of orthodoxy is being less newsworthy than some of my more strident and, dare I say, even occasionally eccentric colleagues," he added.
"It is certainly true that in the ministerial ranks of the Conservative Party, the pro-European segments I think are in the majority."