Ukraine: UK condemns Russian 'land grab' of Crimea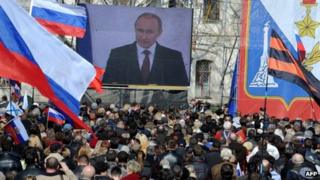 The "international order" is at stake in the crisis in Ukraine, William Hague has said, after Vladimir Putin signed a treaty absorbing Crimea into Russia.
The foreign secretary told MPs this "land grab" was illegal and the UK was suspending all arms export licences and military co-operation with Moscow.
Further action against Russia, such as economic and trade sanctions, were now being considered by the EU, he added.
Mr Putin has claimed Crimea "has always been an integral part of Russia".
Amid unconfirmed reports that a Ukrainian soldier had died following an incident at a military base in Crimea, Mr Hague said this "underlined the grave danger in this tense situation where a provocation or flashpoint can easily occur".
Moscow has suggested that it is protecting the rights of Russian-speaking people in Crimea following the change in government in Ukraine last month and after a referendum on Sunday recorded 96% support for the region to join Russia.
'Sham'
But speaking in a debate in the House of Commons, Mr Hague said Russia was trying to "muddy the waters of international opinion" because the referendum was illegitimate and a "profound breach" of international law.
What had happened in Crimea, he said, was the "annexation of part of the sovereign territory of an independent European state through military force" and the "use of force to change borders".
"No amount of sham and perverse democratic process or skewed historical references can make up for the fact that this is an incursion in to a sovereign state and a land grab of part of its territory with no respect for the law of that country or for international law," he said.
Mr Hague said there was a danger that Russia could use its current arguments as a pretext to intervening in other areas of Ukraine and other former parts of the Soviet Union with large Russian-speaking populations.
In response to Russian actions, Mr Hague said all bilateral military co-operation between the UK and Russia not subject to treaty obligations had been suspended and defence export licences to Russia, worth about £37m, had also been put on hold.
The export ban will apply to "military and dual-use items destined for units of the Russian armed forces or other state agencies which could be or are being deployed against Ukraine".
The items covered include cloth for uniforms, parts which could be used in armoured vehicles and military aircraft, hand-held radios, visors for pilots' helmets and oil coolers for helicopter engines.
If Russia did not change course, he added, such trade could be "permanently curtailed" while Russia's relationship with Europe could be "permanently affected", adding that it was likely that the G8 group of industrialised nations would now meet without Russia.
'Clear and robust'
Mr Hague said the UK would be pushing for the "strongest possible" action against Russia at a meeting of EU leaders later this week.
The EU and US have already imposed travel bans and asset freezes on Russian officials.
But former foreign secretary Sir Malcolm Rifkind has dismissed the international community's response so far as "pathetic and feeble", saying it had been treated with "absolute contempt" by Moscow.
"The Russian objective is quite well known," he told MPs. "It is to effectively control all the areas of the former Soviet state...The only way we can hope to have a significant impact on Mr Putin's thinking is by financial and economic sanctions."
And former defence minister Sir Gerald Howarth said Nato should begin naval exercises in the Black Sea to "serve notice" that Russia could not expect to take effective control of other parts of Ukraine.
David Cameron, who defended the EU's response to Russia so far, said he would push for "further measures", including "tighter sanctions", at Thursday's meeting and warned Moscow of "serious consequences" unless it respected Ukraine's sovereignty.
Labour said it supported the government in its response to the crisis but believed the EU needed to act "more decisively" in extending travel bans to "elites that the Kremlin relies on for its support" to force Russia to the negotiating table.
For the Lib Dems, former leader Sir Menzies Campbell said the EU and the US must work together to exert as much pressure as possible on Russia but only a diplomatic solution could settle the territorial dispute.