James Brokenshire defends elite-row immigration speech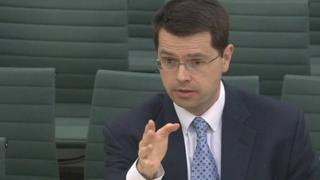 Immigration minister James Brokenshire has said he was not "passing judgement on anyone" when he said that a "wealthy metropolitan elite" had benefited from "uncontrolled" mass immigration.
His recent speech on immigration had received "broad support", he told MPs.
At the Home Affairs Committee, he said the government aimed to attract the "brightest and best" migrants.
Chairman Keith Vaz said his choice of words made "the whole country" think he was criticising his own colleagues.
In his first speech since taking on the role of immigration minister earlier this month, Mr Brokenshire said: "For too long, the benefits of immigration went to employers who wanted an easy supply of cheap labour; or to the wealthy metropolitan elite who wanted cheap tradesmen and services - but not to the ordinary, hard-working people of this country."
'Baptism of fire'
It transpired that Prime Minister David Cameron has employed domestic staff from Nepal and Australia since entering Downing Street, with the former recruited from Kalayaan, a charity that helps immigrants to escape abusive bosses.
Deputy Prime Minister Nick Clegg said his family employed a Belgian domestic helper.
Mr Vaz asked Mr Brokenshire: "You had something of a baptism of fire as immigration minister. What was the point of saying 'wealthy metropolitan elite'? What were you trying to ask them to do? Not employ people from abroad?"
He replied: "The simple point that I was making was in relation to how uncontrolled immigration can have benefits for some members of our society, but how actually the most significant impact is on the least well off, those on low incomes, those with low skills.
"I made very clear on the day I was not passing any judgement on anyone. It was simply to make the point that some people had benefited.
"Our emphasis is on attracting the brightest and the best, on ensuring that those who are skilled and can contribute to our society - of all different creeds, colours, backgrounds, and whichever part of the world they come from - can contribute to our society."