David Cameron: I want Boris 'on my team' in 2015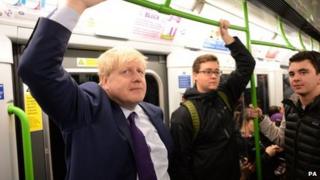 David Cameron has said he wants Boris Johnson back in Parliament by 2015, comparing him to a "great striker you want on the pitch".
Speculation about the Mayor of London's leadership ambitions continues, with many Tories urging him to stand as an MP in the general election or before.
The prime minister told The Sun that he wanted Mr Johnson "on his team".
A spokesman said Mr Johnson had a "huge job" to do in London but would "do all he could" to ensure a Tory victory.
Mr Johnson is seen by many Conservatives as a future party leader although - under current rules - he would not be able to stand in any future contest if he was outside Parliament.
'Not ignoble'
For some while, senior Tories have been privately urging him to stand for Parliament in the 2015 election or even before, in the event of a by-election, to help push for a majority Conservative victory.
This has been interpreted as a desire to tie Mr Johnson's fortunes to those of the party, in the event of the Tories either winning or losing the next election.
Interviewed by actor James Corden in the Sun - who is "guest editing" the newspaper for Sport Relief - the prime minister was asked whether Mr Johnson should stand in 2015.
He replied: "That is what I think he should do. I want him to get back in Parliament. I think he's great. It's a bit like football - if you have got a great striker you want him on the pitch."
"It's up to him. He can complete as mayor, or he can stay on as mayor and come back to the House. I want him on the team."
Mr Johnson has batted away questions about his ambitions to become PM, although he told a BBC documentary last year "if the ball came loose from the back of a scrum", he would love to have a "crack at it".
Asked about this, Mr Cameron said it was "not ignoble" for Mr Johnson to want his job.
"It wouldn't be a great job to have if people didn't want it."
'Soap opera'
In response, a spokesman for Mr Johnson said he was determined to prevent Labour from winning the next election, describing the prospect as a "an utter disaster" for this country.
"Between now and May next year only two things matter to me - delivering for London and returning David Cameron to Number 10 as prime minister of a majority conservative government.
"I've got a huge job to do in London but I'll be doing all I can to make that happen."
Depute Prime Minister Nick Clegg - who has traded verbal blows with Mr Johnson in the past - said it was "very difficult to follow this Conservative Party soap opera".
He added: "All I'm going to do is carry on concentrating on completing the economic recovery but completing it as fairly as possible, that's my priority."
Tory grandee and former deputy prime minister Lord Heseltine said he thought Mr Johnson should see the job of Mayor through to 2016 as he had promised voters.
"I think he'll be able to give David Cameron all the support he can he needs in the general election campaign as Mayor of London," he added.
There is nothing to stop Mr Johnson serving out his term as Mayor, which ends in May 2016, while also being an MP.
His predecessor, Ken Livingstone, combined both roles for a year.