British 'cynicism' about institutions 'no worse than rest of EU'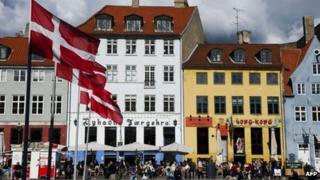 The British people are no more cynical about their public institutions than many of their European counterparts, new research has suggested.
Levels of perceived corruption in the UK have been consistently lower than the EU average, according to the Committee on Standards in Public Life.
It found levels of trust in politicians had bounced back after falling during the 2009 parliamentary expenses crisis.
But only Italians and Greeks have less confidence in their parliaments.
The committee said it had commissioned the research to see whether the decline in trust in public institutions in the UK witnessed in its own surveys since 2004 was mirrored across Europe.
Drawing on data from three major research projects - the European Values Survey, the European Social Survey and the Eurobarometer - it concluded that the UK was not broadly out of step.
Trust in public institutions has eroded across Europe, it found, with the steepest decline in recent years being in countries like Spain, Italy, Greece and Ireland whose economies have been hit hardest by the debt crises, youth unemployment and property bubbles of recent years.
In contrast, citizens of the Nordic countries and the Netherlands consistently tend to have the most benevolent attitudes towards their institutions.
The proportion of UK respondents to polls saying corruption was a major or widespread problem rose significantly to 73% in 2009.
This followed revelations about fraudulent claims of parliamentary expenses, which first came to light in 2009 and which ultimately led to a handful of MPs and peers being sent to jail.
Election rebound
Perceptions of corruption fell in both 2011 and 2013.
Last year, levels were lower than Ireland, Portugal, Greece, Spain and Italy - where perceptions of corruption are above 90% - but higher than in the Netherlands, Germany, Sweden and Finland.
However, while parliaments tend to be the lowest rated institution across Europe in terms of trust, the research found that only Greece and Italy has less confidence in their parliament than in the UK.
Other findings from the research, which was conducted by Isabel Taylor from the University of Nottingham, include.
Very few people report recently being asked or expected to pay a bribe to a public official
Levels of trust in representative institutions - such as parliament and political parties - tend to be lower than in administrative institutions such as the judiciary and the police
Levels of trust in political institutions often rebound after general elections but increases tend not to be sustained
Lord Bew, chairman of the committee, said the research suggested that the British public were "not unusual" in their judgement on the prevailing standards of public officials.
"They are rarely the most cynical," he said. "Indeed, British citizens' perceptions and experiences of corruption are consistently lower than those in most European countries".
However, he said there was no room for complacency since perceptions of standards had "political consequences" and ethical standards underpinned the "healthy functioning of society".