New Whitehall home for education officials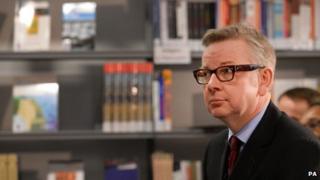 The Department for Education is to move into new premises in Whitehall, saving the taxpayer an estimated £8.5m a year.
Officials will transfer to the 19th Old Admiralty Building, currently occupied by the Foreign Office, in 2017.
The Grade II listed building was once home to First World War code-breakers and the Naval Intelligence office of James Bond author Ian Fleming.
The government has sold off £1bn in unused properties and vacated 1,000 leasehold buildings to save cash.
While the education department's current central London office is leased, the Old Admiralty Building is a freehold property.
Foreign Office staff will be re-located to the department's King Charles Street headquarters nearby, after which the Old Admiralty Building will be completely refurbished.
Education Secretary Michael Gove said the move "would free up money that was being spent on rent so it can be reinvested back into the department's budget".
"This decision makes sense financially and shows how the government is getting the most benefit possible for every square metre of property we own and every pound of taxpayers' money we spend."
However, officials have not said how much it will cost to modernise the department's new home.
In an effort to cut the government's running costs, several departments are sharing offices - with the DCMS moving into Treasury buildings and the DCLG due to move into the Home Office.