Changes to private members' bills to stop 'manipulation'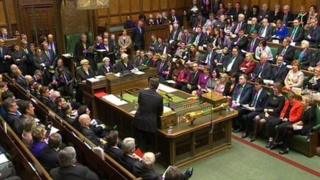 MPs look set to press ahead with plans they say will stop private members' bills from being "manipulated".
The Commons Procedure Committee said time limits could be placed on speeches when bills are debated at second reading to prevent filibustering.
Votes on the most prominent bills should be held promptly at the end of a full day's debate, it says, while bills may be published in draft form.
The majority of bills flounder due to a lack of parliamentary time.
Most private members' bills never become law and those that do, generally have to get the support of the government to proceed.
'Constructive'
MPs and peers have a number of ways of tabling bills of their own but those who come top of an annual ballot get priority in terms of debating time.
Most bills are debated on a Friday, when they often have precedence over government business in the House of Commons and there is no limit on the length of time that members can speak.
The cross-party committee said it had had "constructive discussions" with the government about potential changes to make it easier and quicker for Parliament to consider private members' bills.
It said it had revised its proposals since they were published in September and now hoped to find time for them to be approved by the Commons as a whole before the end of the current session in May.
'Transparency'
Among its recommendations, it said MPs should not be able to introduce more than one private member's bill at the same time so as to avoid limiting the time available for debate for those likely to make progress.
It said private members' bills emanating from the annual ballot should be treated like government legislation.
That would see votes at second reading, the stage at which the bill is considered in principle for the first time and the point at which many bills fall by the wayside, should take place on the same day it is debated.
Bills could be published in draft form on the parliamentary website from the 2014-5 session, it urges, while the deadline for publishing the actual legislation should be brought forward to ten days before second reading.
It also called for the would-be legislation to be renamed backbench bills.
"We believe that the package of reforms we put forward is the right one," said Conservative MP Charles Walker, who chairs the committee.
"It represents an important step towards our aims of increasing transparency and avoiding the potential for manipulation of the system, particularly by filibustering."