UK should eliminate illiteracy in our lifetime - Gove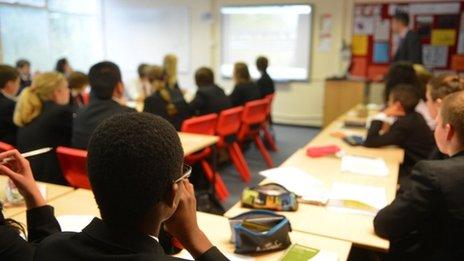 The UK must strive to eliminate illiteracy and innumeracy "in our lifetime", Michael Gove has said, likening the challenge to past efforts to eradicate deadly diseases.
The inability to read or understand basic maths was a "blight" on life chances, the education secretary said.
He compared the "demanding" task with successful fights against polio and TB.
More than a third of pupils in England do not achieve A* to C grades in English and maths.
Following a review last year, the government is insisting that all post-16 education providers must teach English and maths to young people who failed to achieve C grades in their GCSEs.
Speaking to the British Chambers of Commerce annual conference, Mr Gove said the UK should regard the battle against illiteracy and innumeracy in the same way as a developing country treated the fight against malaria and the need for clean drinking water.
Too many teenagers were leaving school without adequate qualifications in English and Maths, making them "effectively unemployable", he told business leaders.
"We need to ensure that in our lifetime we eliminate illiteracy and innumeracy in Britain," he said.
"In the same way as our forefathers more than a hundred years ago knew they had to eradicate polio and tuberculosis if children were to flourish... so we must ensure no child grows up in modern Britain with their futures irredeemably blighted by illiteracy and innumeracy."
Mr Gove said new tests and more rigorous teaching would help ensure at least 85% of primary school pupils were on course to get good grades in English and Maths at GCSE.
The education secretary said there was "no excuse" for companies not to take on apprentices after the government had acted to address concerns about the added costs and bureaucracy involved in doing so.
And praising Chancellor George Osborne's commitment to help create nearly a million new jobs to ensure "full employment" in the UK, Mr Gove claimed the Conservatives were "now the party of labour".
Speaking at the same event, shadow chancellor Ed Balls said he favoured a "tougher approach" to under-performing schools, suggesting the government was prepared to let them "wither away".
"I share his emphasis on rigour and school standards," he said. "But I fear his method - relying largely on a policy of allowing good schools to expand, but letting weaker schools slowly decline - is condemning too many young people to a second-class education."
Mr Balls reiterated Labour's pledge to ensure that all young people continue to study English and Maths until 18 as part of the new tech baccalaureate qualification.
And he suggested vocational education had been "downgraded" under Mr Gove's reforms to the national curriculum.
"My great frustration is that we... have so far failed to persuade him that vocational learning should be a first-class part of the curriculum, that theoretical learning is not the only route to excellence."