Tim Farron: Lib Dems should not back housing benefit changes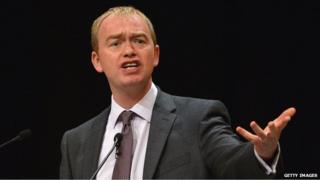 Liberal Democrat president Tim Farron is pressing for his party to drop its support for recent changes to housing benefit in England, Scotland and Wales.
The changes, dubbed the "bedroom tax" by critics but described by ministers as the removal of a "spare room subsidy", were introduced a year ago.
Mr Farron said they "distorted" the housing market and the Lib Dems could no "longer support" them.
But Labour accused him of being "shameless and hypocritical".
The coalition government, which is made up of Conservatives and Liberal Democrats, introduced the changes on 1 April last year.
Since then, social housing tenants deemed to have spare bedrooms have seen their housing benefit payments cut.
The aim was to save money and encourage those with more room than they need to downsize, freeing up space for families living in cramped conditions.
Recent BBC research suggested that 6% of tenants whose benefit was cut had moved.
In a speech to the Centre for Social Justice, Mr Farron said: "The onslaught of divisive rhetoric that demonises the poor can never help us to create a fairer society.
"The bedroom tax causes huge social problems and distorts the market - we as a party cannot support this."
At last autumn's Lib Dem conference, members voted to review the changes to housing benefit. During an impassioned debate, one councillor called them "reprehensible" and "evil".
Mr Farron's spokesman told the BBC: "There's a manifesto process happening and we are trying to push the whole position that the members voted for. We are setting out our stall."
'Restoring fairness'
The call coincided with a report by the Commons Work and Pensions Committee, which warned that the policy was creating "financial hardship and distress" for disabled people.
The reduction in payments for social tenants deemed to have a larger home than they need had hit vulnerable people not intended as targets, the committee said, and it said the rules were having a "severe" effect.
Deputy PM and Lib Dem leader Nick Clegg is thought to back a discretionary system of housing benefit, whereby those tenants who refused to move to a smaller house if they were offered one could see their housing benefit cut.
A Labour source told the BBC that the move by Mr Farron was "shameless and hypocritical" and said the party would be pushing for a vote on the issue in the Commons "in the very near future".
But a Department for Work and Pensions spokesman said: "Our reforms are necessary to restore fairness to the system and make a better use of social housing. Unreformed, the housing benefit bill would have grown to £26bn in 2013-14.
"We have given councils £345m since reforms came in last year to support vulnerable groups, especially disabled people.
"The removal of the spare room subsidy means we still pay the majority of most claimants' rent. But we are saving the taxpayer £1m a day which was being paid for extra bedrooms and are freeing up bigger homes for people forced to live in cramped, overcrowded accommodation."
In November, Mr Farron was one of two Lib Dem MPs to have voted in favour of a Labour parliamentary motion seeking to abolish the changes, which fell by 26 votes.
Instead, an amendment tabled by Prime Minister David Cameron - which noted the "need to bring expenditure on housing benefit under control" - passed by 253 votes to 222 - a majority of 31.