Tory MP Andrew Bridgen drops bid to oust Cameron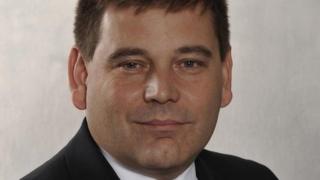 A leading backbench critic of David Cameron - who accused the PM of "fuelling" UKIP's rise - has dropped his call for a Tory leadership contest.
Tory MP Andrew Bridgen has withdrawn a letter of no confidence in Mr Cameron, saying he now supports the prime minister "without reservation".
He put his U-turn down to a "dramatic change in Britain's fortunes".
And he said it would be "wrong" to do anything to make Labour's Ed Miliband entering Downing Street "more likely".
The North West Leicestershire MP led a campaign against military intervention in Syria in defiance of his party leader.
'Credibility problem'
In June last year, he wrote to Graham Brady, chairman of the backbench 1922 Committee, demanding a vote of no confidence in Mr Cameron.
He said Mr Cameron's attitude towards the European Union and support for same-sex marriage had "fuelled the rise of UKIP".
In an accompanying article for the Mail on Sunday, he said Mr Cameron had a "credibility problem", adding: "The voters think we have many of the right messages - they just don't believe the messenger."
A leadership battle is automatically triggered when 46 MPs lodge letters with the 1922 Committee.
It is understood that the prime minister took Mr Bridgen's letter of no confidence personally and has sought to mend relations with him and other critics within the Conservative Party and to take their policy concerns more seriously.
Ministers agreed two weeks ago to consider Mr Bridgen's proposal to decriminalise non-payment of the BBC television licence fee.
'Sound principles'
In his letter to Mr Cameron, withdrawing his demand for a leadership contest, Mr Bridgen writes: "Much has happened since I wrote that letter.
"You along with the Chancellor of the Exchequer have steered our country away from the worst economic catastrophe since the Second World War to a recovery characterised by economic growth, rising employment and falling inflation.
"This dramatic change in Britain's fortunes would not have occurred without the long-term economic plan devised and implemented under your leadership."
He adds: "The commitment to a renegotiation of our relationship with the European Union and the promise of a referendum will also offer the people of our country their first vote on Europe for 40 years."
Mr Bridgen also praises protections for pensions, efforts to increase the number of apprenticeships and "measures to secure long-term economic growth founded on sound Conservative principles".
He adds: "Thus, I have considered what I can do in the best interests of both my constituents and my country to contribute to the success of the party and government you lead. I have therefore concluded that the time has now come to withdraw my letter of no confidence."
Mr Bridgen says that "it would be wrong for me to do anything that made the election of Mr Miliband as prime minister more likely, and the inevitably disastrous consequences this would entail for the nation I love.
"Now as we face the general election in 2015, I believe it is right for me to offer you my full and enthusiastic support in anticipation of the crucial campaign ahead of us and I do so without reservation."
Mr Bridgen, a businessman who trained as an officer in the Royal Marines, has been an MP since 2010.