Maria Miller's expenses: The mood among Tory MPs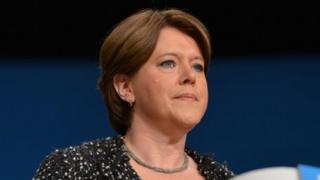 Mention Maria Miller to Tory MPs and many turn gloomy. Some sound rather angry.
"She's pretty low grade," says one. "But she is slavishly loyal to Dave."
The prime minister's defence of his culture secretary has caused frustration.
Returning from their constituencies, a number of Conservatives have spent the weekend campaigning ahead of the coming local and European elections.
The story about Mrs Miller's expenses has been unhelpful.
"It's not going down well on the doorstep," says one Conservative MP. "It's blown away the positive economic message."
Those close to Cameron get looked after, he says, while others are more easily discarded.
'Embarrassment'
Another backbencher is more strident.
"She's becoming an embarrassment for No 10," he says.
Her future is in the balance, he adds, and events are moving against her.
Oxford West MP Nicola Blackwood told the BBC: "Clearly it's very unhelpful for this to drag on in the way that it is."
Mrs Miller's colleagues do not need to know all the details of a complicated story to fear that its presence on the front pages of newspapers day in, day out is harming the party.
Her 32 second apology to the House of Commons did not help, according to her detractors. It was - says one MP - pretty appalling.
The hostility does not surprise those close to the minister.
'Newspaper scalp'
Work and Pensions Secretary Iain Duncan Smith has suggested that her role in pushing through same sex marriage proposals and negotiating a new system of press regulation has won her plenty of Tory critics.
His view is shared by her supporters.
One Tory MP says plenty of people believe the newspapers' coverage is driven by Mrs Miller's role in the aftermath of the Leveson inquiry into press standards.
No close friend of the minister, who he says does not have a huge amount of personal support, he is loath to hand the newspapers a scalp.
"We don't want the Daily Mail driving her out," he says. "If she goes they'll think they can choose the cabinet."
Asked about Mrs Miller's future, another Tory MP hangs his head, and looks thoroughly weary.
Mrs Miller is decent, he says, and has his sympathy, but rows about MPs' expenses just "go on and on and on".
Whether the minister's actions, her brief apology or an angry press is to blame, his conclusion is difficult to dispute.