Peer raises flatulence in climate change debate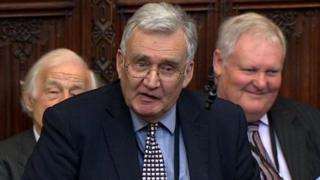 A hereditary peer has asked the government if it takes into account flatulence caused by baked beans in its climate-change calculations.
Labour peer Viscount Simon, 73, raised concerns about the "smelly emissions" resulting from the UK's unusually high consumption of baked beans.
He put energy and climate change minister Baroness Verma on the spot during the government's daily question session in the upper chamber.
She said his question was "different".
His comments came as energy minister Baroness Verma answered questions in the House of Lords on how the government was tackling climate change.
Lord Simon said: "In a programme some months ago on the BBC it was stated that this country has the largest production of baked beans and the largest consumption of baked beans in the world."
To laughter from peers, he added: "Could the noble baroness say whether this affects the calculation of global warming by the government as a result of the smelly emission resulting there from?"
Appearing flummoxed, the minister replied: "The noble lord's question is so... different."
But she added: "The noble lord of course does actually raise a very important point, which is we do need to moderate our behaviour."
The viscount has been a member of the House of Lords since 1993, and chairs debates in his role as deputy Lords Speaker.
His grandfather, Sir John Simon, a Liberal, was given a peerage in 1940 after serving as Home Secretary, Foreign Secretary and Chancellor.
A study last December suggested the total value of baked beans sold in the 2012 had fallen by £20.8m to £339.3m in the UK.